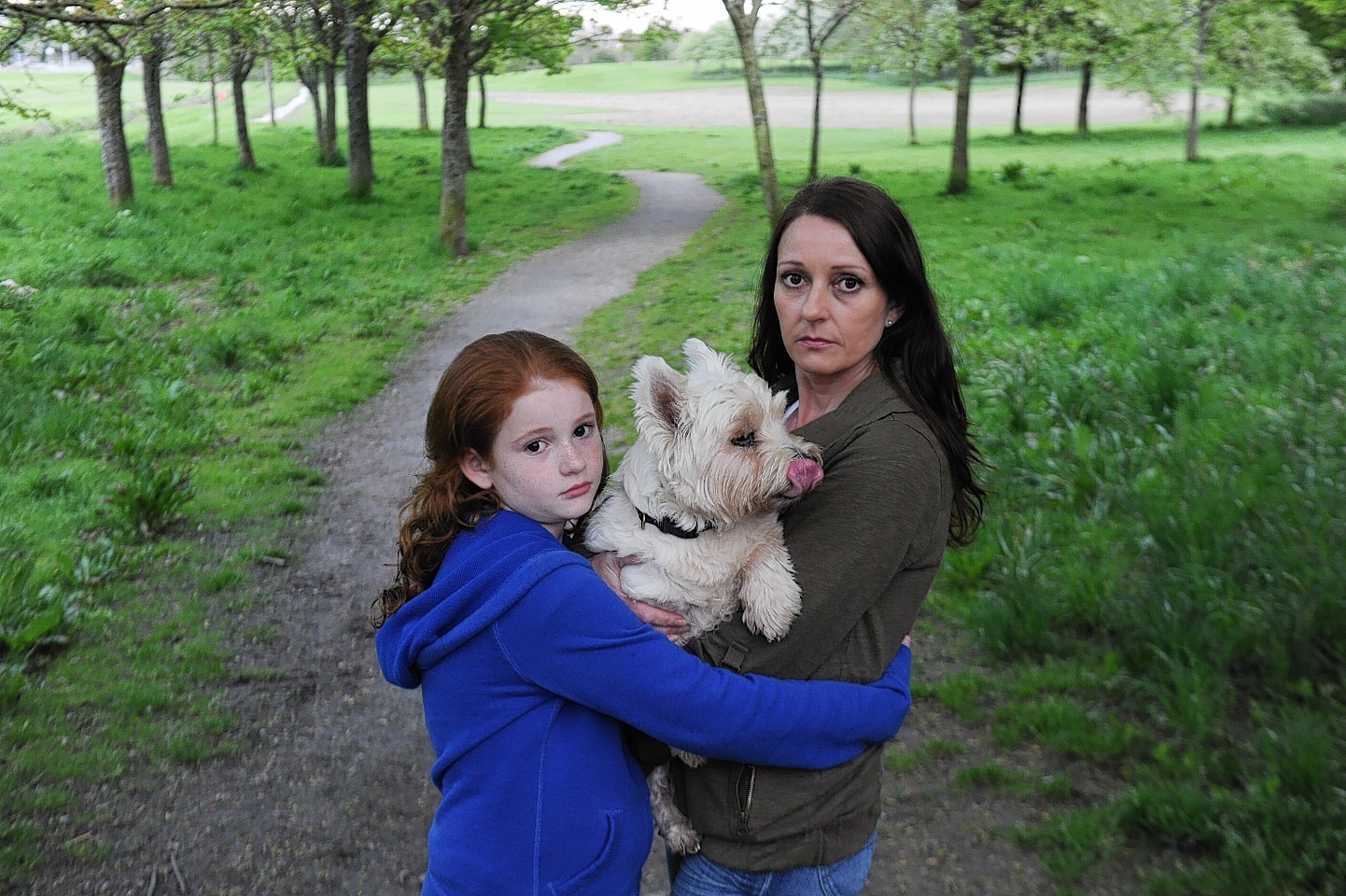 An Aberdeen woman has spoken of her terror after she was attacked by a rottweiler while walking her dog with her young daughter.
Julia Middleton was left with multiple injuries, including a black eye, fractured nose, sprained ankle, and aches and pains after the incident.
And as she lay on the ground, shouting for the rottweiler to be taken off her, all she could think of was her nine-year-old daughter Beth, who witnessed the horrifying attack.
Ms Middleton had just arrived with Beth and their westie Archie at the burn in Rubislaw on Tuesday night, when the incident unfolded.
The 42-year-old, of Woodend Terrace, said: "We had only just got there and this woman pulled up in a white van. She got out and opened the back and a rottweiler jumped out and came running straight for me.
"It made a beeline for me and was bearing its teeth. I was shouting at her to stop it and she just shouted back for me to stand still. It kept banging into me and I knew it was going to go for me."
The rottweiler then knocked Mrs Middleton to the ground, causing her to fall onto her dog, which squealed loudly.
"The rottweiller was on top of me and went crazy when it heard Archie and was trying to get to him," she said.
"All I can remember now is my daughter screaming and saying 'Mummy, mummy I can't help you,'. I shouted for her to get as far away as she can."
Ms Middleton believes she was saved from serious injury due to the puffa jacket she was wearing, which protected her from the worst of the dog's attack.
She said: "There are holes all over it now. The dog was even on my head at one point. This went on for a good few minutes.
"The women was not even able to pull the dog from me. She was fumbling about with its lead while it was trying to kill us. It took her ages to pull the dog off."
Ms Middleton has reported the incident to the police, but wanted to warn other dog walkers to take care in the Rubislaw area.
"Kids play down there all the time, it is a pathway and a short cut through the houses. My daughter plays there with her friends," she said.
"If that dog had attacked my daughter instead I don't even want to think what could have happened. I just want people to be aware."
A police spokeswoman said that enquiries into the attack were ongoing.
She added: "We can confirm that we have received a report of an alleged incident which involved a dog."
A council spokesman said: "We are aware of this incident and our dog wardens will be making enquiries."