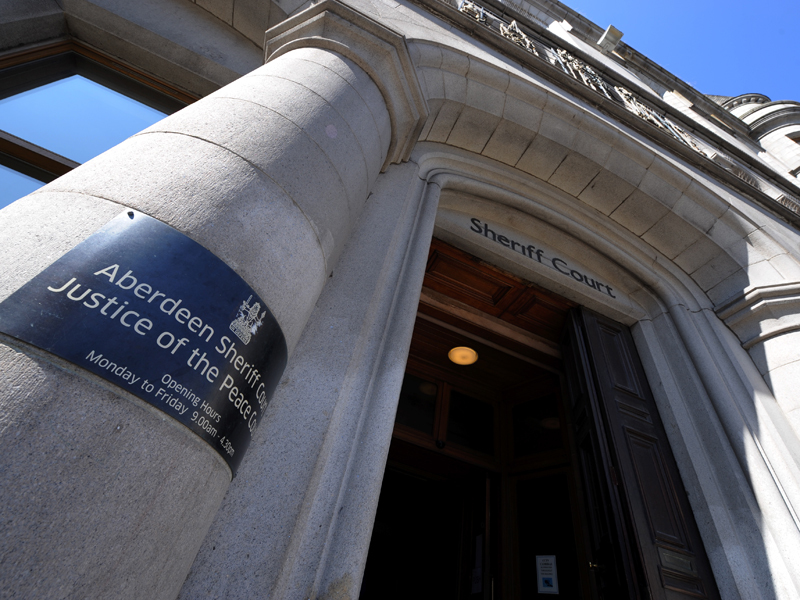 Three teenagers have been accused of a string of motoring offences – including the theft of vehicles worth more than half a million pounds.
Seventeen-year-olds Liam Smith, Blair Thomson and George Cowie are facing a total of 20 charges which are alleged to have been committed over a period of eight months.
Among them is the theft of a haul of super cars worth £500,00 which were stolen from a rural home last summer.
The vehicles, taken from the property at Drumduan House, Banchory Devenick, included an Aston Martin Rappide, Ferrari 599 GTO, a white Porsche 911, a grey Audi A5 and a grey Toyota Land Cruiser.
The case against the youths called yesterday at Aberdeen Sheriff Court in front of Sheriff William Summers.
Smith and Thomson denied the allegations against them, however Cowie, who is facing seven of the charges, failed to appear and a warrant was issued for his arrest.
Smith, of 28 Dickson Terrace, Aberdeen, is alleged to have committed all 20 of the crimes on the indictment. He originally faced a further 11 charges but his not guilty plea to those was accepted by the Crown yesterday.
It is alleged Smith started his crime spree almost a year ago, on May 22, with the theft of a blue BMW from outside a home in Greenburn Drive, Bucksburn.
Three days later it is alleged that he and Cowie stole two sets of keys from Lintmill Place in Aberdeen, before Smith stole a grey BMW 3 series estate.
Then on May 28 it is alleged Smith tried to resist arrest when constables Andrew Martin and Yvonne Dey went to his home to try to detain him.
He is accused of pushing a door against PC Dey, hitting her on the body, and struggling violently with the officers in an attempt to avoid being put in handcuffs.
Smith is further accused of stealing a red Triumph motorbike the following month from outside an address on Taransay Crescent, Aberdeen. He is then alleged to have driven it along the road without due care and attention before crashing the 600cc machine.
He is also accused of leaving the scene of the accident without reporting it to police as well as failing to give the name and address of the owner of the bike.
The trio are then alleged to have carried out the raid on the property in Banchory Devenick overnight on July 22.
They are accused of breaking into the property first, before making off with a quantity of car keys.
It is alleged the youths they drove off with the Ferrari, Porsche 911, silver Aston Martin Rapide, Grey Toyota Land Cruiser and a grey Audi Quattro as well as a Suzuki LRT 450 quad bike.
Smith is further accused of stealing another quad bike on December 12 and 13 last year, before driving it across a grass verge at Provost Fraser Drive in Aberdeen.
Smith's final offence is alleged to have been committed at his home on February 28 this year, where he is accused of causing fear and alarm to two police officers by repeatedly shouting and swearing.
He has been remanded in custody while the case is ongoing, however, Thomson, of, 62 Rona Place, Aberdeen, was released on bail.
A warrant has now been granted for the arrest of Cowie, of, 30 Provost Fraser Drive, Aberdeen.
The three are due to appear in court again next week.