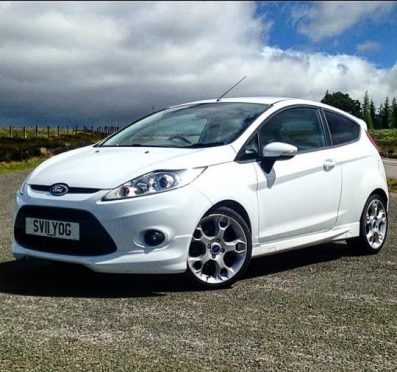 An Aberdeenshire lifeguard has hit out at the thieves who broke into his home and made off with his car.
Kieran Scott of Ballater awoke on Friday morning after a night out with friends to discover his white Ford Fiesta 1.6 Zetec S was gone from the driveway.
The culprits also made off with his mother's purse and father's wallet and iPhone.
The car has since been spotted in the Northfield area of the city and in Newburgh, with police urging anyone who has spotted it to get in touch.
The theft, of the vehicle – registration number SV11 YOG – took place last Friday between 1am and 2am.
Mr Scott, 21, said the robbers took advantage of a 15-20 minute window between his dad's return home and his return from the pub to sneak into the house.
The former Aboyne Academy pupil said it was "weird" the family dog, which normally yelps at the slightest sound, hadn't made a peep as the thieves crept in.
He added: "I was out in the pub with my mates and I got home about 2am and my Dad went to bed at 1am. In this period the door was unlocked for me to come home.
"It took about 10 to 15 minutes for my Dad to get to sleep. They came in between 1.15am to 1.40am and took my car.
"My dad came through the next morning and said 'your car is missing'. That is when he noticed everything else was gone.
"When I spoke to the police they said they were probably trying every single door, ours was just the unlucky one."
Mr Scott added that he "didn't actually believe it" when his dad broke the news and called on people to lock up their doors no matter what.
He said: "I was like 'it can't be gone, surely'. My girlfriend stays in Aberdeen, how am I supposed to get in there?
"It is my luck, the one time we have our door unlocked. It was just that one night."
A police spokeswoman said inquiries into the theft are ongoing.
On the same day a red-orange Land Rover and a silver Volkswagen Passat were stolen from the Main Street area of Newburgh, with the latter later recovered.
Anyone with information should call 101 or Crimestoppers on 0800 555111.