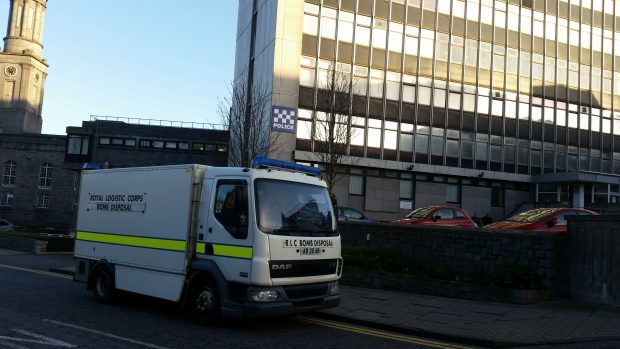 A bomb squad from Edinburgh collected a "commercial explosive" from the police headquarters in Aberdeen today.
The Royal Logistics Corps bomb disposal squad were called to the central offices of the Aberdeen police force on Queen Street just before noon in response to a "small item".
The unit was initially positioned outside the building for around an hour, before driving underneath the Queen Street site into the police headquarters.
Army team members were seen in tan camouflage clothing going in and out of the building.
A police spokeswoman said: "Police Scotland can confirm that EOD (explosive ordnance disposal) were called today at 11.30am to attend at he Police Scotland building at Queen Street in Aberdeen to collect an item of low grade commercial explosive that was recovered during a routine warrant operation.
"There was no risk to Police Scotland staff or the public and the item will be disposed of safely by EOD specialists."