Wind and rain battered the north-east last night as Storm Frank enveloped Scotland, with severe weather warnings still in place today.
Alerts were issued by the Met Office last night as the Grampian region braced itself for 65mph winds and gusts of up to 70 or 80mph.
Between 40 and 50 millimetres of rain was predicted by weather chiefs with rainfall reaching up to 120millimetres in some places.
Commuters face the prospect of challenging conditions this morning with the yellow weather warning continuing across Grampian until 3pm.
An amber "Be Prepared" warning was put in place from midnight last night for rain in Aberdeenshire and will remain until 3pm today, presaging a blustery and soggy climax to the year for many people.
The Met Office has warned people to take extra caution when they are venturing outdoors and cautioned drivers to be vigilant with surface water on roads.
A flood alert was also issued yesterday by the Scottish Environment Protection Agency for possible flooding in Aberdeen, Aberdeenshire and parts of Moray.
SEPA said: "Heavy rainfall is expected from Tuesday night into Wednesday, which will lead to a risk of flooding to land and property from rivers.
"This may also result in widespread disruption to travel and infrastructure [across Scotland].
"In addition, strong southerly winds and large waves may cause some minor flooding from waves and lead to spray overtopping in exposed coastal areas."
The Coastguard was on alert in advance of the storm, which was predicted to hit coastal areas in the early hours of this morning.
High winds have been a major concern and Coastguard commander, Mark Rodaway, urged those going out to sea to check the weather and tidal conditions.
He also warned of the risks of taking dramatic photos of storms.
Yesterday, waves crashed over Aberdeen Harbour, often engulfing the harbour wall.
Mr Rodaway said: "At sea, changes in tidal streams could make conditions worse, particularly if the wind and tide are against each other, but above all, don't take risks when a storm at sea is involved.
"Do not be tempted to go out and take those photographs yourself.
"No photograph or selfie is worth risking your life for."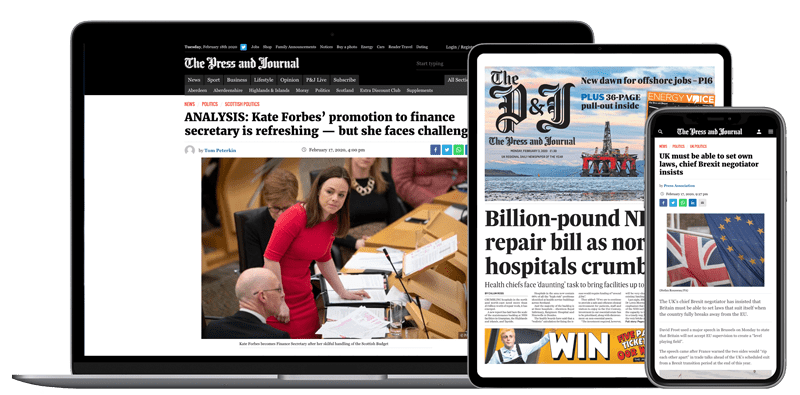 Help support quality local journalism … become a digital subscriber to The Press and Journal
For as little as £5.99 a month you can access all of our content, including Premium articles.
Subscribe