Police are hunting a knife-wielding raider who donned an Iron Man mask before targeting an Aberdeen shop.
The hooded culprit entered Roslin Stores in Urquhart Road brandishing the blade, with his face hidden by the distinctive mask red and gold mask.
But shopkeeper Sivakumar Thengavelavthem managed to defend his store – by beating the culprit away with a fan.
CCTV footage shows the brave 44-year-old waving the fan above his head, eventually forcing the would-be thief to flee empty handed.
He is believed to have run off in the direction of the city centre.
Mr Thengavelavthem, who was in the shop alone, was shaken but unhurt in the incident, which happened at about 7.20pm on Tuesday.
And yesterday, he insisted it was business as usual as he got back behind the counter.
He said: "I have had this store for three years, there have been small things like people nicking a few items but nothing like this before.
"I was alone in the store when it happened.
"He was wearing an Iron Man mask and took out a knife but he left the store without taking anything.
"The police have been round today taking fingerprints but the store is open and running as usual."
Police are investigating the incident, and have appealed for anyone who recognises the man – or who saw anything suspicious to come forward.
Detective Sergeant Martyn Thomson, who is leading the investigation, said: "The man responsible has been described as approximately 5ft 10in in height and slim build.
"He was wearing a superhero mask, a two-tone light and dark blue hooded top, dark jeans and black trainers with distinctive white soles.
"He presented a weapon before fleeing the shop towards the city centre."
He added: "We are appealing for anyone who was in the area at the time and has any information to come forward."
Anyone with information should call 101 or Crimestoppers on 0800 555111.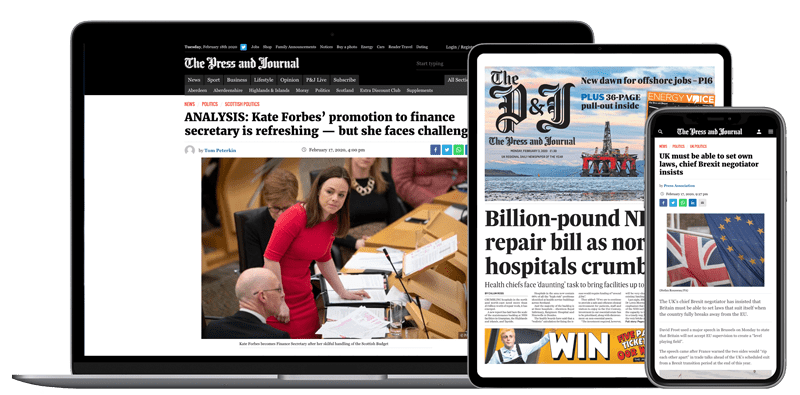 Help support quality local journalism … become a digital subscriber to The Press and Journal
For as little as £5.99 a month you can access all of our content, including Premium articles.
Subscribe