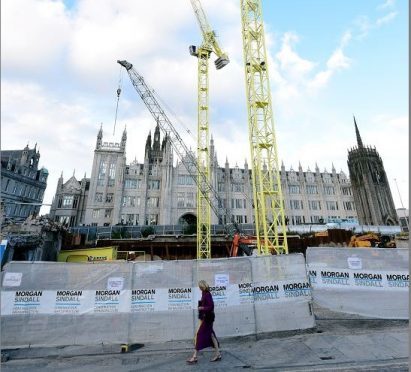 Outraged Marischal Square objectors have complained to standards watchdogs amid claims Labour councillors had decided which way to vote on the controversial scheme before hearing any debate.
According to the councillor's code of conduct, political group meetings should not be used to decide planning policy.
But according to Bill Skidmore, of the Reject Marischal Square group, Labour consistently voted together to approve the £107million Broad Street scheme.
Now, a total of 17 councillors have been reported to the Commissioner for Ethical Standards in Public Life in Scotland.
Mr Skidmore provides evidence for his allegations on the basis of two online messages by serving Labour councillors.
Education convener Angela Taylor wrote "we debate issues and come to a position" and "you need to have a party line".
And finance convener Willie Young wrote that an SNP councillor had "sided with Labour" on the development.
Mr Skidmore said: "I think we have adequate proof that the Labour member had decided to push ahead with this before debates.
"Planning isn't supposed to be a political issue and it's clear the councillors were playing politics here."
Opposition SNP group secretary Graham Dickson said: "These are the most serious of allegations that are being made, the impact on the council could be huge not only on our reputation but also if they were proven guilty there could be substantial legal challenges on planning applications, the liabilities could run into the millions.
"It will be for the standards commission to weigh the evidence and decide whether they can prove that the Labour group has been colluding on planning decisions.
"The very fact that a member of the public feels the need to report an entire council group is very damaging to the reputation of the council."
Last night, Mr Young said he would "happily defend his actions", and he was confident he had done nothing wrong.
He said: "Rather than trying to cause mischief, because that's what they're doing here, you would think they would say 'let's get behind Aberdeen and these projects', instead of getting caught up in he said this, or she said that."
Meanwhile, Mrs Taylor called the complaint petty "beyond belief" and said she was disappointed to hear it had been raised against her.
She said: "I think the campaigners need to realise that this development is signed, sealed and delivered, and it's disappointing that they have to be petty and take a comment where I was generally talking about how politics work."s