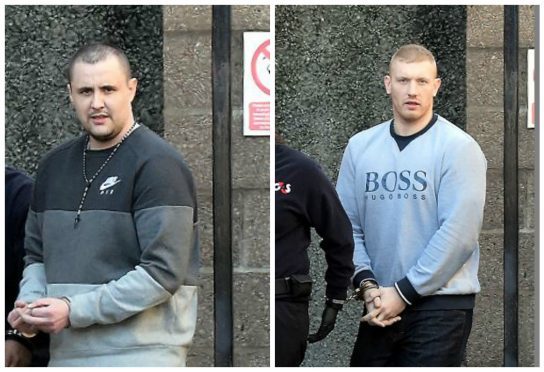 Two men – including a one-time cagefighter – have been jailed for a series of drug-fuelled assaults in Aberdeen which left one man disfigured.
Garry Black and mixed martial arts fighter, Craig Dick, appeared at Aberdeen Sheriff Court yesterday and admitted assaulting two men as they "shopped for cocaine" following a party on October 10 last year.
The pair, both prisoners in HMP Grampian, repeatedly punched and kicked Thomas Gray after entering his home on the city's Stewart Crescent uninvited.
The attack took place at around 5am and left his face permanently scarred.
The court heard they were acting along with another unnamed man that evening when they grabbed Mr Gray and ripped off his shirt.
They subsequently threw him down a flight of stairs and punched him on the head.
He was later rushed to hospital with a fractured bone on his face and required seven stitches to a cut above his eye.
The court heard that Mr Gray's partner was 14 weeks pregnant at the time of the attack.
Fiscal Anne MacDonald said the couple had been in bed when they heard a disturbance downstairs. The woman went to see what was going on and was confronted by the men in her house.
The court was told that, due to the commotion Mr Gray walked downstairs.
He was then pulled down the stairs and punched several times before his partner called the police.
The three men then made their way to another property on Aberdeen's Cummings Park Drive where they pushed a man, who cannot be named for legal reasons, to the ground before repeatedly punching him in the head.
Black, 31, also admitted threatening the safety of the man's children by threatening to burn down their house if the police were called.
Miss MacDonald said the men shouted "I want the drugs, I want the Charlie" before Black told the family – which included four children – that they had "better get used to sleeping with a fire blanket".
Representing 28-year-old Dick, solicitor Graham Morrison said his client previously served a prison sentence in 2009.
He said he had since "settled down" and become a "family man".
However, he added that on the night in question, he been at a party and had taken "illicit substances".
Sheriff Annella Cowan sentenced the pair to 18 months behind bars.