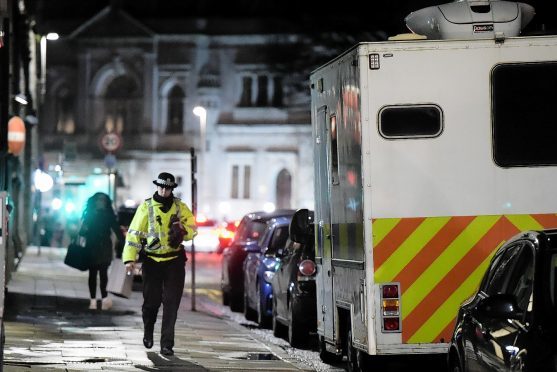 A man was in custody last night after a woman was found dead in an Aberdeen flat.
Police confirmed a 25-year-old had been detained in connection with the death of the woman, who was discovered in a city centre flat four days ago.
The woman – who police believe was involved in the prostitution – was found at a property on Union Terrace on Friday afternoon.
It is thought she was 30, but she has not yet been named.
Last night's arrest came just a day after detectives confirmed they were treating her death as murder.
A large-scale inquiry was launched, which involved detectives and forensic officers scouring the flat for evidence, checking CCTV footage, and door-to-door inquiries with neighbours.
Yesterday, police remained at the flat, with one officer standing guard at the entrance to the block.
A police incident van has been parked on the busy street since the woman was found, with a car stationed at the rear of the property on Diamond Street.
It is understood the woman had been renting the flat and only been there for three days.
Police have also been working with support groups nationally and looking to get advice to people involved in prostitution to help them stay safe.
Among the support groups detectives have been consulting with is Ugly Mugs, a UK Charity working to end violence against sex workers.
Chief executive Alex Feis-Bryce urged sex workers to take care last night, and said: "We strongly recommend that sex workers trust their instincts and avoid taking any risks. Also, if seeing a client, where possible, tell a friend where you are and ask them to check in with you at regular intervals. If in doubt, say no.
"We also urge anyone with any further information whatsoever to either get in touch with the police or contact us and we can pass the information on anonymously."