A huge flash of bright light that illuminated the skies over the north of Scotland on Monday night was probably an "exploding meteor".
Thousands of people spotted the "big white flash" as far afield as Inverness, Forres, Kinloss, Laurencekirk and even Lumphanan at about 6.45pm.
People took to social media just to check they were not the only ones who had seen it, and described it lighting up the sky "like daylight".
Many reported it had been followed by about 10 seconds of "massive rumbling" that even caused buildings to shake.
Torcuill Torrance, of the Aberdeen Astronomical Society, said it had most likely been an exploding meteor.  He said: "The highest probability is that there has been an exploding meteor which has entered the atmosphere, heated up a lot and exploded.
"This took place at 6.45pm and 46 seconds.
"It must have been a fair size to have been heard."
(Check out the links below for more)
VIDEO: Footage of meteor exploding over Buckie goes viral online
Reports of bright white light and rumbling in sky over north of Scotland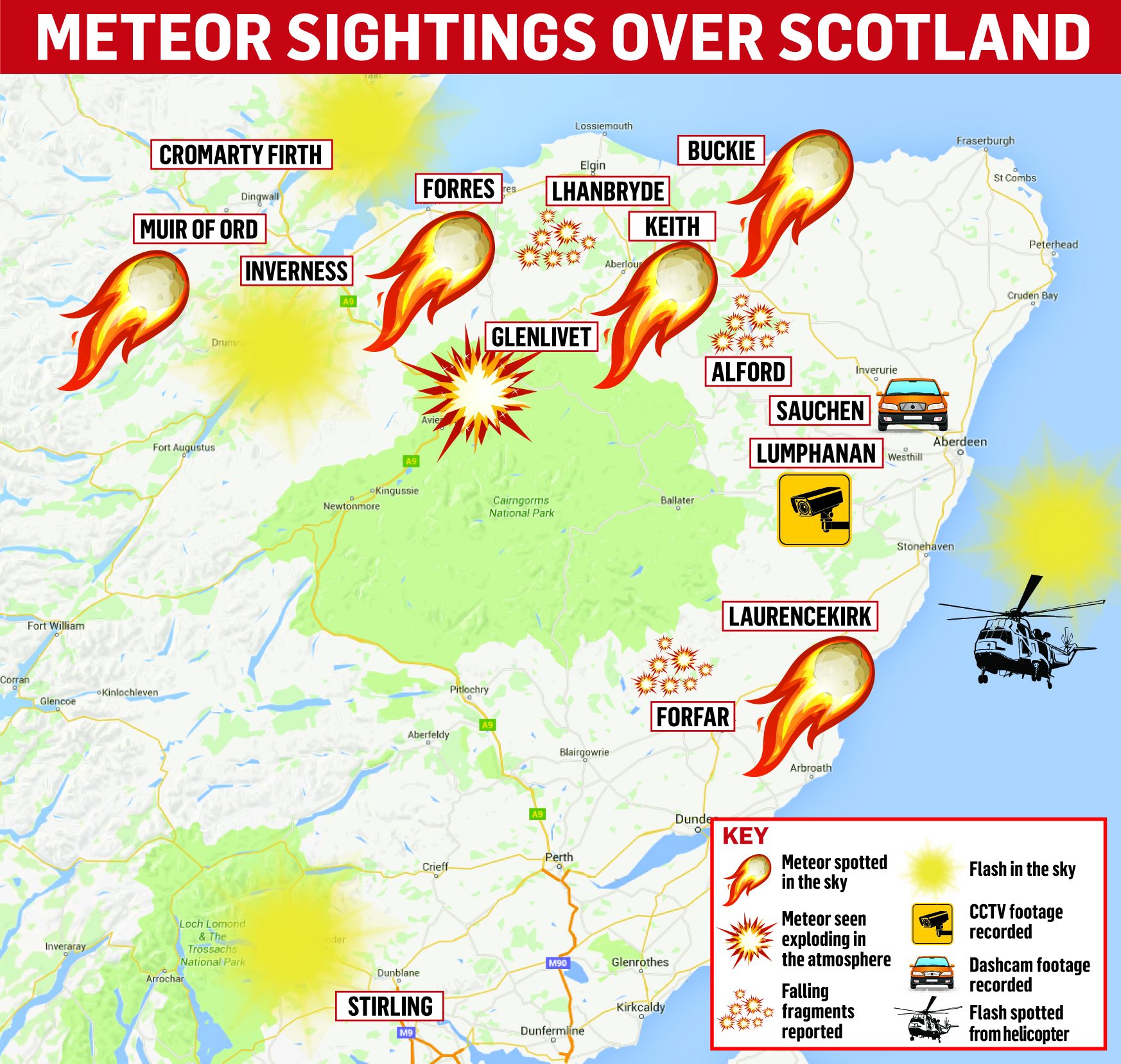 Dr Robert Massey of the Royal Astronomical Society said: "After something like this the scientific community looks at reported sightings, trajectory and direction and uses trigonometry to ascertain possible landing sites."
A mum in Alford said her daughter and yoga teacher had watched a "big purple ball of fire" lit up the sky in Alford, Aberdeenshire.
They reported that it had landed in the field behind the new academy, while several others believed they had seen it come down in Lhanbryde.
Social media soon erupted as people who had witnessed it started debating what had caused the flash.
Dr Robert Massey of the Royal Astronomical Society added: "If you think you have seen meteor fragments you should report it to the Natural History Museum in London as any fragment from outer space could hold tremendous scientific value."