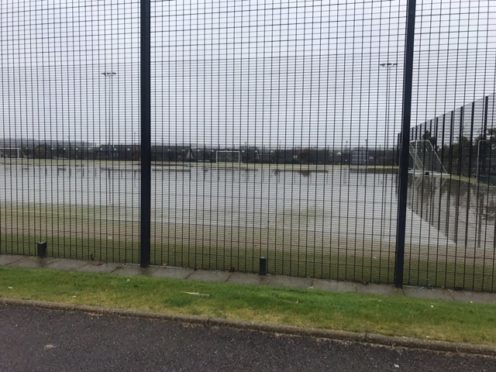 A row has erupted over plans to replace a sports pitch at Portlethen Academy amid claims it will not be a suitable surface for football matches.
The current sand-based 2G pitch has been causing frustration for the local community in recent months with poor weather leading to flooding and a series of closures.
Football groups had hoped the council would agree to install an upgraded 3G facility which would be usable in all weathers and provide better grip due to the longer artificial grass.
However, this would not be an appropriate artificial surface for hockey players.
Council officers have now informed community councillors that it will be replaced with the same 2G surface currently one the site.
North Kincardine Liberal Democrat councillor Ian Mollison explained that the pitch was "coming to the end of its life" and added: "The community council meeting was told that it became clear that losing the ability to host hockey would lead to a significant under-provision of hockey pitches in Aberdeenshire as a whole.
"If it were replaced with an all-weather football pitch, there would be nowhere in the south of Aberdeenshire to play competitive hockey.
"Replacing like-for-like means that nothing will change.
"This surface can still be used for recreational football."
However, one community council member, who did not want to be named, said: "The children who want football we were told they should use grass or travel outside our town for other facilities – the needs expressed for football in this community have fallen on deaf ears."
And local Scottish Labour councillor Alison Evison said: "There needs to be an acknowledgement from the council that Portlethen actually needs a second pitch for community use, designed in full consultation with local groups and the community council."
John Harding, head of lifelong learning and leisure at Aberdeenshire Council, said: "The pitch at Portlethen Academy is due to be resurfaced this summer, so we took this opportunity to consider how it is currently used and look at the expected demand over the coming decade before choosing a new surface.
"Right now it currently hosts one of only two competitive hockey clubs in Aberdeenshire  – and the only one in South Aberdeenshire.
"We recognise that there is strong support for change from football clubs, however changing this pitch to a different all-weather surface would be harmful to the future of the hockey club, who would not be able to continue."