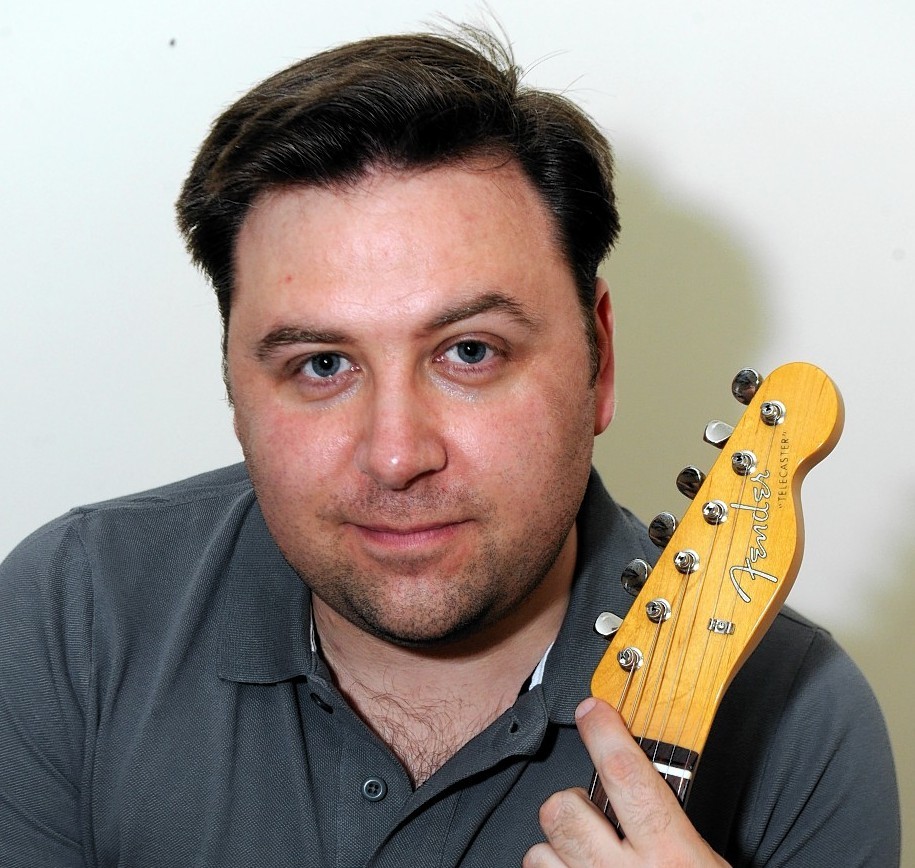 When he steps out onto the stage next month, Stuart Leon will be hit with a whirlwind of emotions.
It will be the first time in 16 months the father-of-two has performed in front of a huge crowd, after fighting back against chronic kidney failure.
But as well as having the adrenalin and excitement of a big show, Party at the Park in Stonehaven will also be a poignant occasion as more than a dozen bands and musicians raise cash for a charity very close to his, and his family's, heart.
Proceeds from the concert, now in its 10th year, will go towards the campaign to bring a kidney dialysis unit to Stonehaven – which would not only have made Mr Leon's illness more bearable, but also his late mother-in-law's.
For months, the 35-year-old trekked back and forth between Aberdeen three times a week for dialysis, with a bus picking him up from his home in Fettercairn at 5.30am and dropping him off again at about 6pm.
With no dialysis unit south of the city, scores of patients make the trip each week – prompting fundraisers from across the north-east to take action to bring a satellite unit to Stonehaven.
Mr Leon, who had a kidney transplant at Christmas, believes the unit would give dialysis patients more valuable time to spend with loved ones.
"In the last year I've spent more than 60 days in hospital.
"I met a lot of people in my time at hospital, some of them in their advancing years and I couldn't help thinking 'we only have so much time'.
"Stonehaven from where I live is 15 minutes down the road.
"My mother-in-law had two liver transplants, the second went very well a few years ago but her kidneys suffered as a result of her failing liver. She had to undergo hemodialysis, very similar to mine. My father-in-law would drive her in and back, she'd leave the house at 7am and get home at 5pm.
"She did this for the last year-and-a-half of her life – she could have gone to Stonehaven, had her four hours of treatment and been home in half a day, rather than a whole day in Aberdeen. Our family would give anything to get those hours back."
Guitarist and singer Mr Leon added he was glad his comeback with band Eric Euan would be at a family-friendly event, as his illness had also affected his wife Ingrid and daughters Sophia, three, and Helena, one.
He said: "This has hit us twice as a family. They've all gone through it with me. This is me getting back to some sort of normal life – it's quite a big thing."
Fundraisers from across the north-east have been holding events to raise money for Stonehaven's dialysis unit for the last two years, with individuals, medical professionals and local businesses all backing the cause.
Now campaigners are hoping they can raise another £70,000 while NHS Grampian put together a business case for the project.
If successful, a satellite kidney dialysis unit would be set up in the town, like the ones already established in Elgin, Banff, Peterhead and Inverurie.
Sarah Todd, a staff nurse at the dialysis ward at Aberdeen Royal Infirmary, will play at Party in the Park with her punk-folk band Well.
The 25-year-old from Aberdeen said she had been delighted when she realised profits from the event at Mineralwell Park would go towards setting up a unit.
She said: "Having a unit in the south of the city would be absolutely invaluable.
"It would give patients a better quality of life. It would be a smaller unit than Aberdeen, it would be more personal and more based around them. It would be nurses from the community, for patients in the community."
Other bands lined up to play on July 27 include Fubar, The Little Kicks, Colin Clyne, Leighann Esslemont and OK Taxi, and there will also be family entertainment including a bouncy castle, barbecue and stalls.
Chris Stark, of Ma Simpson's Music in Stonehaven, has organised the concert for the last 10 years, and always nominates a charity to benefit.
She said: "This is our 10th anniversary, and it's always a brilliant day for the family. The kids can play while the bands are on."
The shop has also teamed up with R&B in Aberdeen to raffle off a Telecaster guitar signed by Status Quo to further boost funds. The guitar is currently on show at R&B, but will be at Ms Stark's Evan Street shop from mid-July. The winner will be announced at the concert, which runs from noon-8pm.