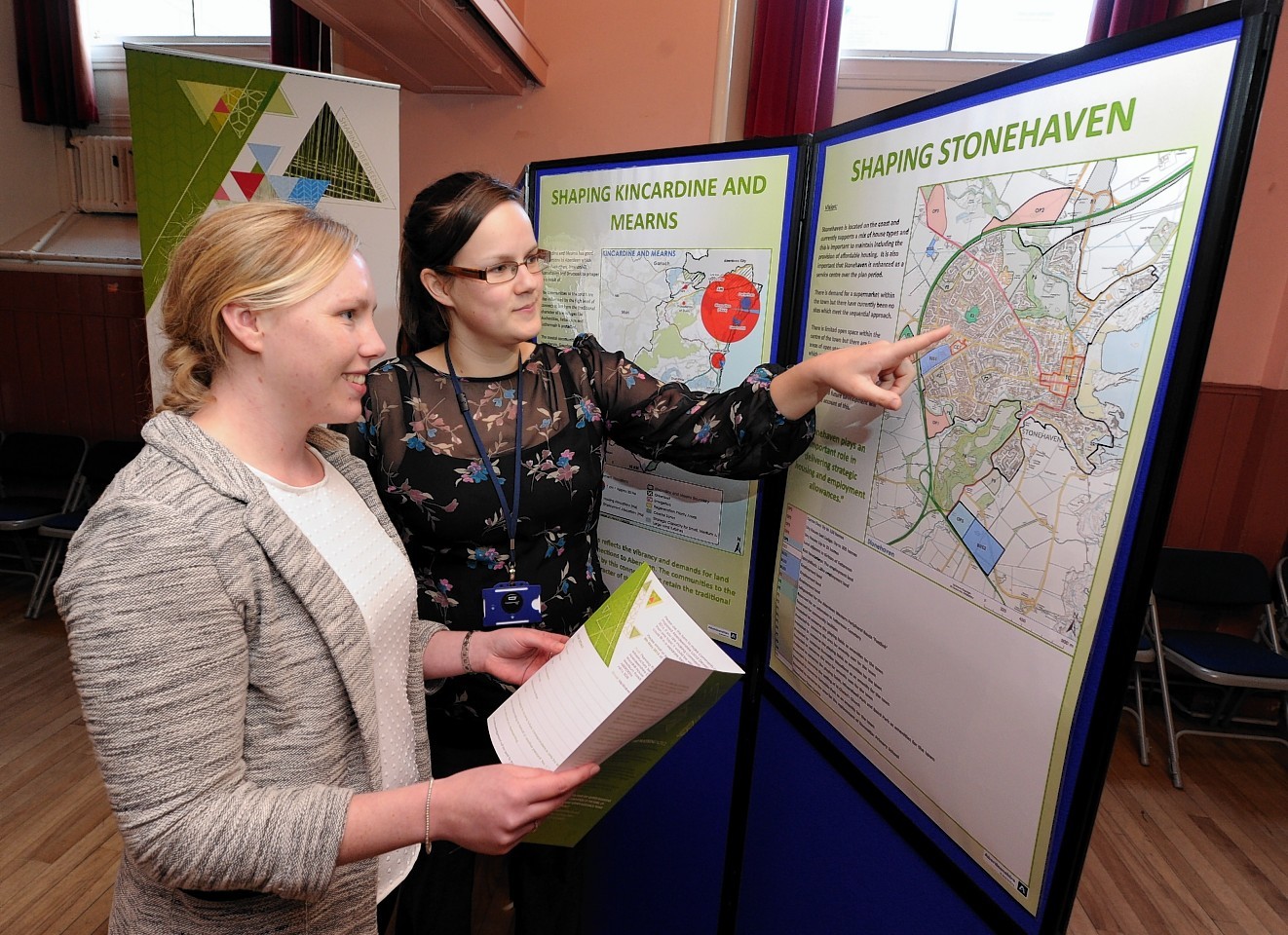 A blueprint outlining future development in Stonehaven and the surrounding area went on public display yesterday.
Aberdeenshire Council's proposed local development plan was published last month, and has now been put out to consultation.
The document will be used to guide where homes, businesses and other schemes are built between 2016 and 2021.
And between now and the end of the month, a series of drop-in events are being held across the north-east to give communities and developers the chance to examine the draft plan and find out more about submitting a formal response.
Yesterday, dozens of people popped into Stonehaven Town Hall to view the vision.
Piers Blaxter, planning policy team leader for Aberdeenshire Council, said there were "no big surprises" for Stonehaven as there were no major developments planned.
The display laid out sites where there is ongoing or future opportunities for development – with Carron Den allocated for up to 110 homes and Ury Estate East Lodge for up to 205.
At East Newtonleys, 17 acres of land has been allocated for employment or business use, with a four acres at Spurryhillock, which is proposed for "small-scale retail use" – such as the long-awaited supermarket.
The boards also showed which areas had been reserved for future use, such as the Aberdeen Western Peripheral Route's fast link, a replacement for Dunnottar Primary School and an extension to Fetteresso Cemetery.
Mr Blaxter said feedback had generally been positive, adding: "I think for people in Stonehaven the main challenge is the supermarket. The plan is quite clear that we've got difficulty finding an appropriate location for the supermarket, so the strategy is for a marginal site at Spurryhillock.
"There's no major developments here though, and that's the kind of thing people normally get up in arms about.
"This is us really just rolling forward with the existing plan – there are no real surprises for communities such as Stonehaven."
Tomorrow, the team will be at Bridge Street Community Centre, Banff from 12pm-6pm and Macduff Town Hall from 3pm-7pm.
Next week, they will visit Turriff, Ellon, Inverurie, Westhill and Laurencekirk.
Consultation responses must be submitted by May 8. To view the draft plan online, or to find out more about the drop-in events visit www.aberdeenshire.gov.uk/planning/plans_policies/MakeyourviewsKnown.asp