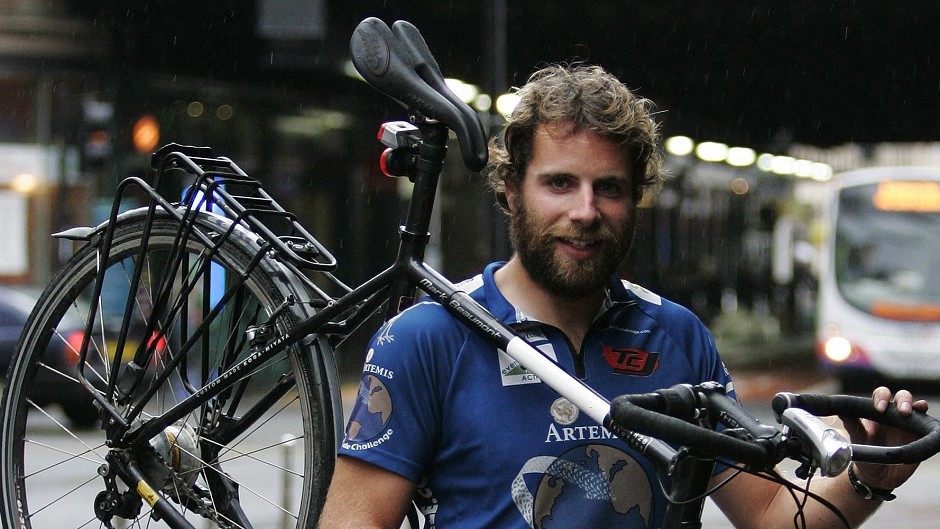 A record-breaking Scots cyclist who recently journeyed the length of Africa will be in an Aberdeenshire town next week to inspire young and old to get on their bikes.
Long distance rider Mark Beaumont will visit Huntly next Friday to give a series of inspirational talks as part of the community's Room to Roam initiative.
The event was organised by the Huntly and District Development Trust to motivate locals to take up cycling and keep them inspired during the winter months.
Mr Beaumont, of Perthshire, recently completed a journey from Cairo to Cape Town in a record 42 days – a massive 6,750-mile journey.
He is also the fastest person to have cycled around the world and across the Americas.
He will be at Huntly's Gordon Primary School next Friday from 2.30pm to give a talk and will follow it up with a presentation at the Huntly and District Ex-Serviceman's Club at 7.30pm.
Mr Beaumont said: "I am really looking forward to returning to Huntly after such a packed and enthusiastic event the last time. This is obviously a community passionate about adventure and the outdoors.
"Since then I have taken on the Cairo to Cape Town World Record, pedalled around the Cairngorms on a penny farthing and ridden 521 miles non-stop around the north coast of Scotland, so there is lots of new adventures abroad and at home to share."
Room to Roam project manager, Naomi Mason, said: "The project focuses on green and sustainable transport options in and around Huntly.
"We promote cycling and walking where possible and run a series of events over winter months when people are less likely to get out on their bikes.
"Mark is coming to talk to us about Cairo to Cape Town that he completed not that long ago and then he is going to talk about what he is up to next.
"He is an inspirational speaker, and cyclist and we look forward to hearing about his adventures."
Scots Commonwealth Games mountain biker, Lee Craigie, will also be in Huntly to speak on November 27. Tickets cost £5 and must be bought in advance.