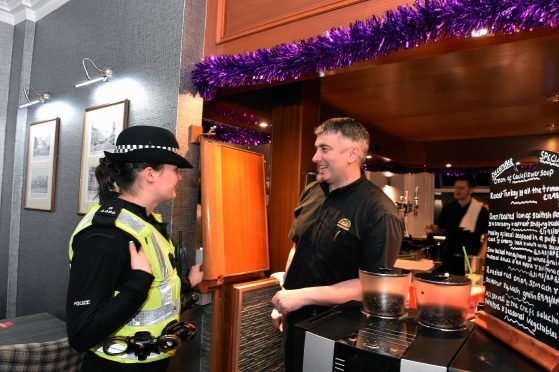 On the last weekend before Christmas, with bank accounts full of the year's final pay cheques, pubs and clubs across Scotland are usually full to the brim.
As office workers and tradespeople prepare for an evening out, bobbies across the north-east gear up for the unknown on one of the year's most hectic nights.
For the force, the weekend – which begins with the so-called "Mad Friday" – brings with it a number of challenges.
Festive drinkers who have less tolerance of their liquor hit the bottle and Police Scotland's Aberdeenshire and Moray division is on standby to deal with potential spikes in crimes of violence on the streets and in domestic situations.
In the picturesque Stonehaven, many residents elect to linger and enjoy the enduringly popular nightlife of the Mearns town.
For PCs Mark Irvine and Lindsey Dow, the Mad Friday shift begins at 10pm with a series of licensed premises visit.
Across the whole region, officers from the Aberdeenshire and Moray Divisional Violence Reduction Unit, the Campaign Against Violence and special constables are patrolling the streets for the second last weekend of 2015.
PC Irvine said it was a case of expecting the unexpected.
He added: "We've got a big area to cover so it could be anything, it could be problem in the pub, problems afterwards, it could be problems on the A90, the A92 – you really don't know what to expect and you can't plan for it.
"There's extra staff on tonight going around the pubs on foot, a bigger presence.
"It gets busier late on as people get the buses and trains back.
"Often it's young people that maybe over indulge, it's the same problems you get everywhere."
Sergeant Neil Grant of the Kincardine and Mearns community policing team said: "We know this busy weekend is coming up and the chances of people going out drinking and people maybe not used to drinking are likely to be consuming more than they might do.
"With that, there is perhaps going to be more trouble because of that, people falling over, people acting drunk, more noise calls.
"We've been doing foot patrols, high visibility licensing premised checks.
"It is all about making sure everyone is aware we are there and then dealing with whatever comes along after that."
At Stonehaven's Trouper's Bar there is a large crowd of locals soaking up the festive atmosphere and the cops receive a warm welcome.
Next door in Zee's Night Club, work is underway to get the venue ready for a particularly busy night.
Supervisor Kendal Berry said: "Mad Friday is really busy here because it tends to be everyone gets the last train home or the last bus home, and they all come back to Stonehaven.
"On a Friday and Saturday night in Stonehaven, because we are the only place open until 3am, once the pubs shut everyone comes at once and you get this mad rush at 12.30am – 1am.
"Friday's are busy, Saturday's are even busier. Stonehaven Saturdays is what we call them. There's never any trouble. People might come along and bump into their Dad, it's that kind of place."
As the night goes on the Market Bar, in the town square, gets ever more busy.
As the police van crawls through the square's car park, one woman, a little worse for wear, dances into its path, coming to a stop at its bonnet.
The officers have a few words with her before they walk into the pub itself to speak to the staff.
The door swings open and there is a loud cheers for the cops.
"Waayhaaay", says one punter loudly, "The strippers are here".
"It's not the first time we've heard that one", quips PC Irvine afterwards.
And it won't be the last.
Limited incidents
Although licensed premises across Aberdeenshire and Moray were packed on Friday and Saturday, there was only two incidents for police to deal with in the whole region.
Chief inspector Richard Craig, area commander for Aberdeenshire South, said this was a positive outcome on the "busiest weekend of the year prior to Christmas" for the force.
He said pubs and clubs from Deeside to the north-east coast and through to Speyside had been packed out, with punters behaving in a "responsible way".
Police have recently launched the festive strand of Operation Sandside – its regional violence reduction crackdown.
Ch Insp Craig added: "The weekend itself has been exceptionally busy right across Aberdeenshire and Moray. Friday was pretty high profile for us with people finishing their work and Saturday again which is always busy right across the shire.
"It was a very busy weekend. That is for the whole of Aberdeenshire.
"Both in Peterhead and Fraserburgh pubs and nightclubs in both town centres were exceptionally busy. In Elgin the nightclub, Joannas, was busy. There was a lot of events being held across Aberdeenshire and Moray.
"The vast majority of people going out did so in a safe, responsible way. It is pretty positive for us.
"There was only two minor incidents of disorder across Aberdeenshire and Moray – in Ellon and Huntly. There were four men dealt with."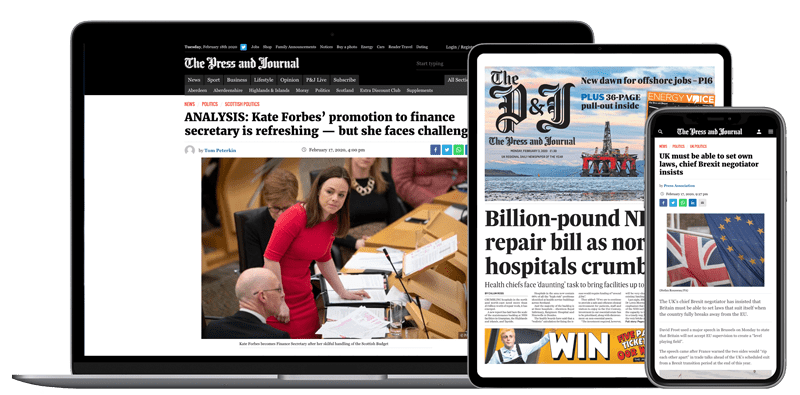 Help support quality local journalism … become a digital subscriber to The Press and Journal
For as little as £5.99 a month you can access all of our content, including Premium articles.
Subscribe