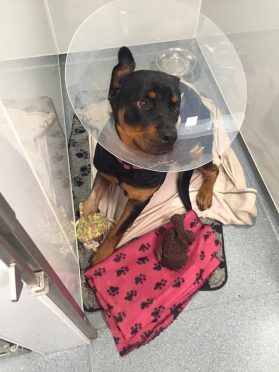 The owner of a poorly pooch whose paw was crushed by a giant steel beam in a "horrific accident" has pleaded for help to buy her a prosthetic leg.
Porscha the rottweiler's broken right front foot was amputated after vets realised there was nothing more they could do to save it.
The one-year-old had been playing in the garden when the 12ft steel beam being used in the building of a new shed toppled over and landed on her.
The pup broke all four toes, with one having to be amputated, leaving a "massive open wound".
Pins were fixed in the remaining three toes with the help of an external fixater.
However, the contraption caused an infection and the tissue died.
Porscha was operated on at the Aberdeen Veterinary Referrals centre at Foveran in Aberdeenshire this week, and her lower leg was removed.
Last night, her owner Rachel Bonner said she was hoping and praying to get her home in time for Christmas if she made a good recovery.
She added that her vet bill had soared to about £4,000 already – and that she had been warned buying a prosthetic leg could cost the same again.
"She is only one year old, she has her whole life ahead of her and we want to give her a chance," said the 23-year-old, from Methlick.
Miss Bonner has now set up a crowdfunding appeal in the hope kind-hearted people will help Porscha's plight.
Her appeal has raised more than £500 so far, but the hairdresser knows she has a long way to go.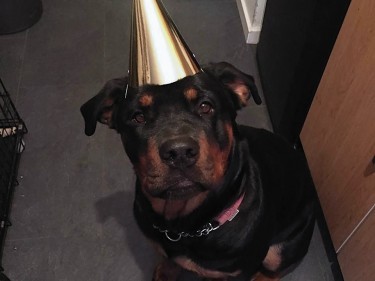 "Any donation would be amazing and will help her so much," she said.
"I would never normally ask for any kind of help, but this is not for me – it's for my baby and my best friend.
"She would appreciate any kind of generosity."
To donate to Porscha's Paw appeal, visit www.gofundme.com/hxfez7fs.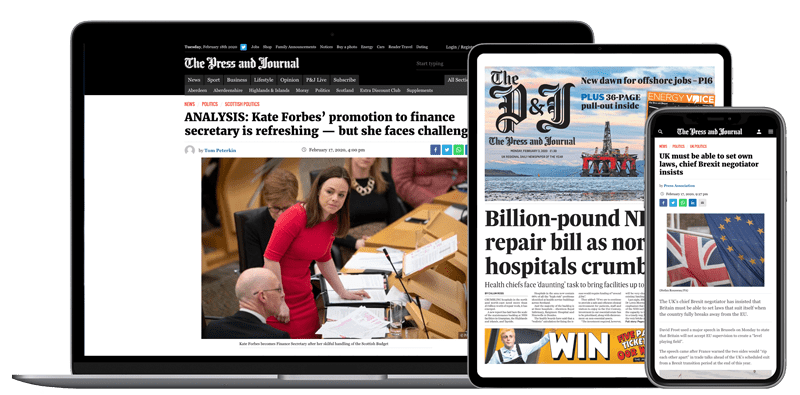 Help support quality local journalism … become a digital subscriber to The Press and Journal
For as little as £5.99 a month you can access all of our content, including Premium articles.
Subscribe