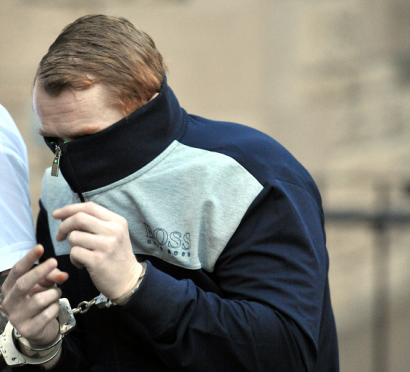 A thief who raided two Moray takeaways landed himself in jail – after taking his loot with him to hospital.
Bungling Rodney Browne took hundreds of pounds from the Northern Fish Restaurant and Speedy Pepper Kebab Shop in Forres earlier this year.
The 38-year-old smashed through the glass doors at the takeaways before stealing tills, money tins and charity boxes before pouring the coins into a bag.
But he cut his leg on the glass, and went to Dr Gray's Hospital in Elgin to be treated – taking the stolen cash with him.
Medics recognised him from the description of a man seen on CCTV footage smashing into the High Street businesses and raised the alarm with police after finding the money in his bag.
Yesterday Brown, who is originally from Liverpool, admitted breaking into the takeaways and attempting to pervert the course of justice when he appeared at Elgin Sheriff Court.
Fiscal David Morton said concerned members of the public raised the alarm about the initial raid at the Northern Fish Restaurant at about 10pm on September 14.
He said: "The glass panel had been smashed, the cash register appeared to be missing. Varying coins also appeared around the premises.
"The owner immediately attended and reviewed the CCTV footage, which showed a man breaking in at about 9.48pm."
Police estimate several hundred pounds were stolen during the raid at the restaurant.
Concerned about reports of the earlier break-in, the owner of the Speedy Pepper Kebab Shop, Mustafa Ozturk, returned to the takeaway at 1.30am to ensure his business was safe.
A short time later police were called to reports of a man acting suspiciously. While on their way, they noticed the kebab shop door had been smashed in a similar way to the Northern Fish Restaurant.
Last night Mr Ozturk estimated that about £100 had been taken during the raid.
He said: "He damaged everything in the shop, he was looking through everything to find money. He even took a charity box."
The court heard that after he was treated and apprehended by police, Browne managed to get away from them and ran across Morriston playing fields towards the River Lossie.
Officers caught up with him, and took him to Elgin Police Station.
Defence solicitor Robert Cruickshank said his client had been "on a binge" in Forres when the thefts took place.
He said Browne had initially moved up north to Peterhead to be with a woman who claimed to have had his child – but the baby had turned out to be "obviously" not his.
However, Sheriff Olga Pasportnikov was reluctant to believe Browne had moved to the north-east of Scotland in search of parenthood.
She said: "Wouldn't he have been in prison serving a previous sentence when the child was conceived?"
He was jailed for two years.