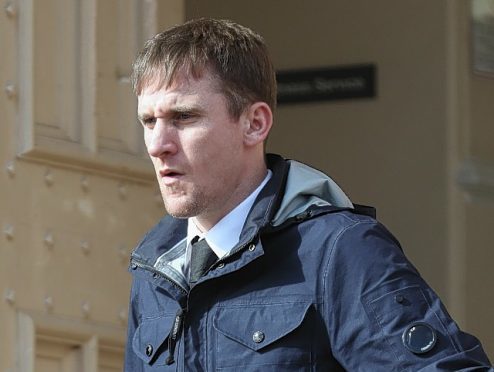 An offshore worker who spent seven hours drinking before boarding a plane home to the Highlands was arrested for his abusive behaviour during the flight.
And on sentencing, the sheriff expressed her surprise that her powers were limited to only a fine for the offence.
Daniel Mackenzie was already shouting as he got on the Amsterdam to Inverness plane operated by KLM.
But Inverness Sheriff Court heard yesterday how the 30-year-old was threatening and abusive in the air despite more warnings from the crew, and police were waiting to arrest him at Inverness Airport.
He swore at one cabin attendant, sang loudly and tried to drink more lager he had taken with him in his hand luggage.
Over 100 passengers were on the 90-minute flight from Schiphol on September 24.
The court was told that Mackenzie, of St Leonard's Court, Forres had been on two weeks of night shift and had gone straight from work to the Dutch airport.
Defence solicitor Marc Dickson said his client's flight was delayed and he spent seven hours drinking with another group of people despite having had nothing to eat.
Sheriff Sukhwinder Gill expressed surprise that her sentencing powers were limited to a fine for the offence.
Ordering Mackenzie to pay £850 within two months after he admitted behaving in a threatening and abusive manner, the Sheriff told him: "Given the serious nature of the offence and having looked at the legislation, custody or the alternatives cannot be considered.
"It is surprising that sentencing is very limited. It is a fine and nothing else. My hands are tied. It must have been a frightening experience for the crew and the passengers.
"Your behaviour was appalling and all the witnesses couldn't get away from you."
Fiscal depute Anna Robertson said: "He was under the influence of alcohol but he was allowed to board. His shouting was getting louder and louder and the pilot spoke to him to calm down.
"But he didn't and he sat down and opened two cans of lager he had removed from his hand luggage.
"The stewardess took them off him and he was given another warning. But he started shouting louder and swearing.
"The crew member felt threatened and she contacted the police. He was informed but his conduct did not
stop." Ms Robertson went on.
Mr Dickson said: "He was kept in custody for two nights and a bail condition was imposed preventing him from using commercial aircraft to travel.
"This has cost him thousands of pounds getting to and from work, having to travel by train and boat. He has taken several hundred flights all over the world and this is the first incident.
"It has been a matter of utter embarrassment to him. He wants to apologise to the crew member who bore the brunt of his behaviour and everyone who was on the flight.
"He doesn't yet know if he will be allowed to fly on KLM or any other airline. Only time will tell."
A Scottish Government spokesman said: "The Scottish Government cannot comment on individual cases. Sentencing decisions in each individual case are determined by the courts which are best placed to decide on an appropriate sentence for each offender before them, taking account of all the facts and circumstances of each case."