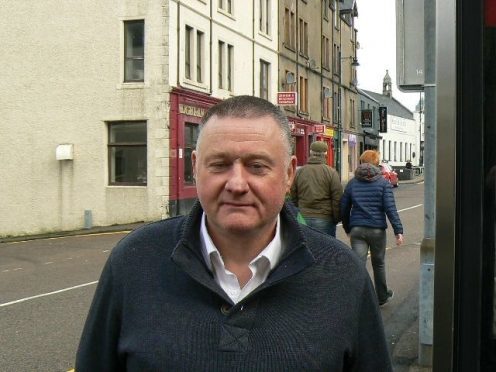 The father of a jailed heroin addict continued his legal battle against the Chief Constable to get his guns back yesterday.
Police took away David Cameron's firearms licence following a raid on his Lochaber home when drugs were found in the "granny flat" occupied by Michael Cameron, 36.
The licence allowed him to keep three high-powered rifles, silencers and ammunition at the family home at Grant Place, Claggan.
Michael Cameron was jailed for six years at the High Court in Edinburgh on June 29, 2013 and police fear he will return to live at his parents' house when he is released next month.
Mr Cameron, 59, a keen deer stalker, denies that his son will live at the family home, and has taken out the action against Chief Constable, Philip Gormley, to have his firearms licence restored.
Mr Cameron launched a bid to have the firearms licence restored on March 3 in a civil action at Fort William Sheriff Court.
Yesterday, the case continued with Detective Sergeant Craig Still, 33, who said that a warrant had been granted to search the premises at Grant Place on April 12, 2012, which was carried out by uniformed officers and himself.
He said he wasn't aware that Michael Cameron's father was the holder of a firearms certificate and, when asked by Sheriff William Taylor QC if he saw the gun cabinet in the house, he replied: "I can't recall it."
He added that a uniformed sergeant had been made aware of it.
The Sheriff said: "I find this absolutely shocking. You find out about a gun cabinet during a drugs search and pay no attention. If you stepped over a dead body, would you notice that?"
Michael Cameron is due to be released from jail on June 17 and social worker, Trevor Bell, said that Mr Cameron visited his office to ask if the local authority would be responsible for finding his son accommodation.
Mr Bell said: "He said he was having difficulty with his firearms licence and it was more likely the application would be granted if his son wasn't living at home.
"I explained that the local authority has a duty of care and his son would be put into homeless accommodation first."
The police case against the father-of-three also claims he is an unsuitable person to have a guns licence because he is a "known associate" of James Kennedy, 73, who had his weapons certificate revoked due to poaching convictions. Earlier Mr Cameron denied that he is a friend of Mr Kennedy.
PC Glen Bigham, 44, said he was on patrol on December 17, 2012, when he stopped a car driven by Mr Kennedy.
"Mr Cameron was in the front passenger seat."
The action will be continued on June 13.