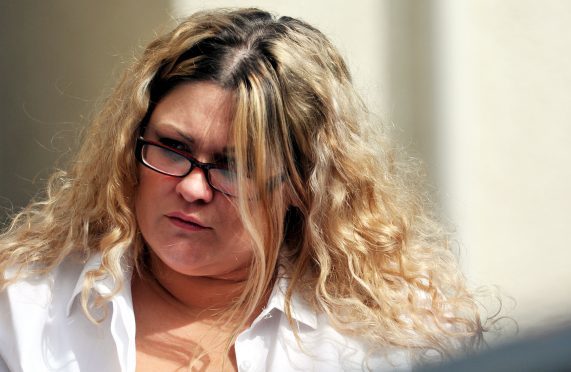 A Moray mum who was caught with £25,000 of Class A drugs has been jailed after she started dealing to pay back a loan shark.
Michelle Kelly stockpiled cocaine and speed in the bedroom of her Elgin home last summer in a bid to try to raise cash for her debts.
The 32-year-old said her troubles began after borrowing money to provide basic essentials for her four children.
And as she struggled to pay it back, she was strong-armed into storing and selling the illegal substances.
Kelly was jailed for two years when she appeared at Elgin Sheriff Court yesterday.
Sheriff Chris Dickson offered some sympathy, but said the circumstances left him with no option but to impose a prison term.
The court heard that Kelly was at her "lowest of low" points when she took out a loan last year, and events snowballed from there.
Fiscal, Alex Swain, said police raided her home on Elgin's Hossack Drive last August after receiving a tip-off about her activities.
They found the accused inside along with her teenage son and two of her young daughters.
Miss Swain said: "When questioned, the accused told police 'I'll tell you where it all is'.
"She took the officers into her bedroom and indicated towards a black handbag and an ice cream tub beside her bed.
"The bag was opened and found to contain numerous smaller bags of white powder, which the accused confirmed was cocaine.
"The ice cream tub contained several clear bags of a white-yellow powder, which the accused identified as amphetamine."
Police were also shown to a cupboard where more cocaine was hidden in a blue Co-op shopping bag.
The court heard that later analysis showed that there was a total of 344.41grammes of cocaine, worth up to £24,100.
There was 222.47grammes of speed in the ice cream tub, worth £1,800.
A mobile phone containing incriminating messages was also uncovered.
Miss Swain said: "There was an incoming message saying 'I'll take one of coke if I can pay you on Friday' and another said 'hey dolly how much is that coke I ordered?'
"There were outgoing messages referring to orders, one said 'there's a beer festival I'm going to, so I should be able to shift some the morn'."
Kelly, who lives in the south of Elgin, admitted charges of being concerned in the supply of cocaine and amphetamine between July 15 and August 12 last year.
Her lawyer, Matthew O'Neill, said the chain of events that led the accused to the dock began with her trying to take care of her children.
Mr O'Neill added: "In the months leading up to this, my client had begun to struggle financially.
"She is a single mother supporting four children and, at that time, was simply trying to keep a roof over their head and food on the table.
"She was given a loan of money, which increased to the point where she owed £2,500.
"There was pressure placed on her to repay the loan, and that is when she started storing and distributing the substances mentioned.
"She describes this as being her lowest low, in a period where there were several significant lows."
The solicitor stressed that his "embarrassed and ashamed" client made no profit from the sale of the drugs, as the money went to her loaner.
Mr O'Neill said: "These unfortunate events often result in the person at the bottom end being brought before the courts."
Sheriff Chris Dickson told Kelly: "I realise you were under pressure, but given the gravity of the offence I am imposing a 24-month prison sentence."