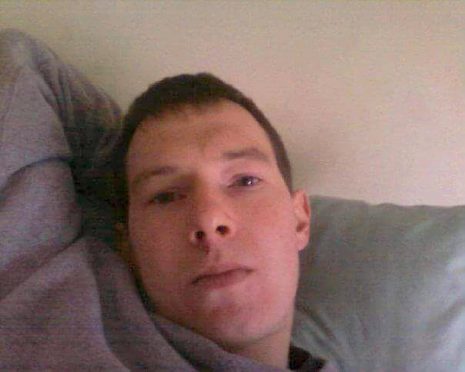 An oil and gas engineer who turned to drugs after losing his job has been jailed for nearly three years after holding up a north-east village store with a knife and a crowbar.
Arran Baird was drunk and high on Valium when he burst into the Londis store in Boddam and threatened store worker Moira Finnie in the middle of the afternoon.
Originally from Ellon, the RGU graduate had been working in the city before he lost his offshore job last year amidst the oil and gas downturn.
North-east man robbed local store armed with knife and crowbar
The 33-year-old then moved to Peterhead and as his family life broke down he quickly became hooked on heroin.
And while battling his habit he raided the small store on February 28 this year sparking an armed police response.
Yesterday Baird appeared at Peterhead Sheriff Court to be sentenced having previously admitted carrying out the offence.
The court heard Baird banged his weapons off the shop counter before making off with £800 in cash from the till as well as five packets of cigarettes from the shop near Claymore Crescent.
Police dogs as well as an armed response vehicle were called in to aid the hunt for the former engineer who was caught an hour later at a bus stop in the village.
Baird, who was injured in the arrest and taken to hospital, had previously pled guilty to assaulting Mrs Finnie by presenting a knife and crowbar, demanding money and repeatedly striking the weapons off the counter.
The court heard Baird had come into the Londis near Claymore crescent at 11am to buy a bottle of cider, before returning three hours later to rob the store.
Fiscal depute Kelly Mitchell said: "When Mrs Finnie initially refused to hand over any money, Baird became more agitated and brought the knife down in a stabbing motion against the counter and was striking the crowbar against it.
"He then pointed the knife towards her at which time she began removing notes from the till and placed them onto the counter. Baird also demanded cigarettes."
Miss Mitchell told the court Baird walked "calmly" out of the store while shocked witnesses dialled 999.
Police officers and dogs were quickly on the scene and began scouring the village for the dad, who was easily identified because he walked with a "distinct limp".
Baird was unarmed when he was arrested at about 3.30pm while standing at a nearby bus stop.
Officers later found the crowbar and knife at Baird's home. A total of £700 of cash was recovered, as well as four packets of cigarettes. Mrs Finnie was not injured during the incident.
During Baird's appearance in the dock, defence agent Sheena Mair told Sheriff Andrew Miller her client has fallen on hard times after the loss of his job and family.
She told the court Baird had been battling a drug problem. It is also understood his father died while Baird was working off shore.
"He had taken Valium that day," she said. "And consumed a significant amount of alcohol. That was to try and reduce his heroin intake. He has little recollection because of the Valium and alcohol.
"That is not to make excuse for his behaviour but goes some way to explaining what was in his mind that day. He accepts full responsibility and he apologises and appreciates Mrs Finnie would have been scared."
She added that her client began taking drugs when he moved to Peterhead and has been separated from his family.
Sentencing Baird, Sheriff Miller said: "I can only regard this as an extremely serious offence committed against a background of substance misuse. That was the key to your motivation for this offence."
He added that Baird's early plea of guilty "spared" Mrs Finnie and the other witnesses the ordeal of reliving the incident in court.
Baird – whose address was given as the Peterhead area – was jailed for a total of 32 months.