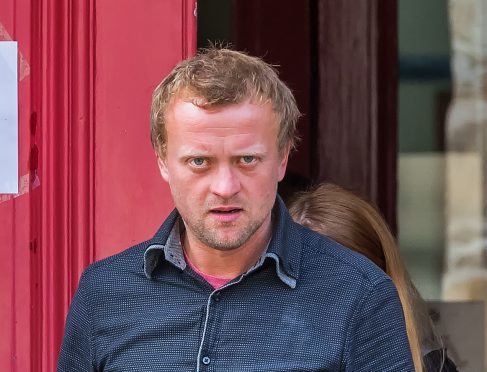 A Moray man who plied a 14-year-old girl with alcohol before sexually assaulting her has been spared prison.
Marcin Hildebrandt of Buckie, kissed the teenager on the mouth and slapped her on the thigh after buying her and her friends vodka.
Yesterday the 30-year-old was placed on the sex offenders register for three years at Elgin Sheriff Court after admitting his behaviour towards the child.
The youngster was with three friends, aged 13, 14 and 15, in Duffus on October 14 last year.
During the evening Hildebrandt, of Titness Street, was asked by the teenagers to buy them alcohol.
He later returned from Lossiemouth with two bottles of vodka but insisted that he pay for it.
At a previous hearing fiscal Alex Swain described the man, who is originally from Poland, then joining the girls to drink the alcohol.
She said: "He then began speaking in a sexualised manner towards them all.
"At one stage he slapped the girl on the back of the thigh, close to her bottom.
"He was told to leave the room but refused and began rubbing her ankle. When he left he said something.
"The girl followed him into another room to ask him what he said and he proceeded to kiss her on the mouth for about five seconds."
An argument then ensued between Hildebrandt and the girls.
The victim revealed the incident to her mother the following day by text message.
Sentence was initially deferred in order for background reports to be prepared about Hildebrandt after he pleaded guilty to a charge of sexual assault and a charge of buying alcohol for a young person.
Yesterday defence solicitor Robert Cruickshank described the information as "very positive" about his client.
The Buckie resident was placed under supervision for three years, ordered to do 165 hours of unpaid work and was placed on the sex offenders register for three years.
A report will also be sent to Scottish ministers to consider whether he is unfit to work with children.