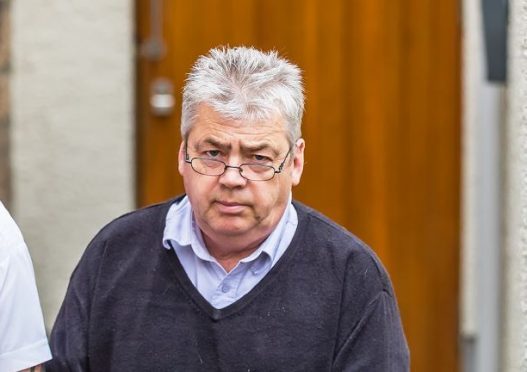 A former takeaway owner has been jailed for having sex with an underage teenager at his Elgin business.
James Smith, of Lhanbryde, met the 15-year-old numerous times during a six-month affair at his business and the caravan he used to share with his wife.
Yesterday, the 61-year-old was jailed at Elgin Sheriff Court after he admitted having consensual intercourse with the youngster at CJ's Plaice and the neighbouring Deano's Direct on "various occasions".
Sheriff Chris Dickson described the offence as a "breach of trust" due to the "huge" age difference between the couple.
Smith shared messages with the girl on a secret mobile phone he kept hidden in a delivery van. When his wife discovered the texts on the device, she confronted him at the chip shop.
Police detained the businessman on December 4 last year after being called to a "disturbance" at the takeaway.
Smith transferred the ownership of the business to his wife after the offences came to light and now has no involvement with the firm.
Defence solicitor Robert Cruickshank explained his client had cut off contact with the girl following the offence and his marriage had now "broken down".
He added: "He made a mistake. He doesn't blame anyone apart from himself for that.
"Hopefully the victim doesn't have long-lasting detrimental effects. My client has obviously done all that he can by pleading guilty as early as he could."
Mr Cruickshank added that no victim impact statement had been prepared from the girl because it was considered there had been "no impact" on her.
A social work report prepared ahead of yesterday's hearing concluded that the businessman was considered at "low risk" of offending again.
However, Sheriff Dickson was satisfied a prison sentence was the only sentencing option.
He said: "Mr Smith, you have pleaded guilty to an extremely serious offence, of having sex with a 15-year-old child on numerous times over a six-month period.
"It occurred in circumstances where there was a huge difference of age of some 45 years."
Smith, of St Andrews Road, was jailed for two years and has been placed on the sex offenders' register for 10 years. A report will also be sent to Scottish ministers to consider whether he is unsuitable to work with children.
He pleaded guilty to a single charge of having sex with a 15-year-old girl at an earlier hearing.