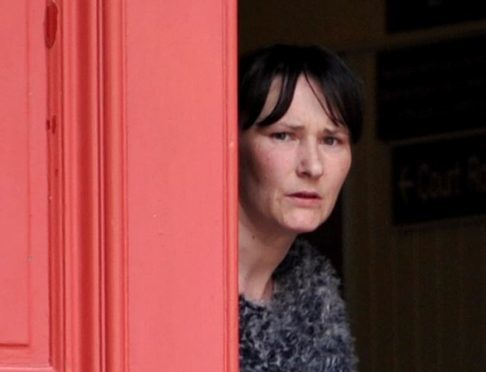 A drug addict, who stole more than £2,500 from a pensioner with Alzheimer's disease to fuel her habit, has been jailed.
Sharon Geddes used Peter Adamson's bank card to withdraw cash from his account during a period of six days.
The Forres resident was only thwarted from stealing more after the bank became suspicious about the transactions and cancelled the card.
Yesterday, the 38-year-old pleaded guilty at Elgin Sheriff Court to stealing money from Mr Adamson and four others.
Sheriff Chris Dickson told the grandmother she had "preyed" upon vulnerable adults in order to fund her addiction.
Fiscal Alex Swain told the court Geddes initially posed as a cleaner at Mr Adamson's sheltered housing accommodation when questioned by a carer.
She said: "The accused told the carer she was friends with Mr Adamson and they went out for coffee and she occasionally helped with house work.
"When the carer left, the accused was still there and she felt uneasy about her association with him and decided to report her concerns.
"On August 6, a different carer reviewed his finances with him. This revealed the bank card had been used to make five withdrawals of £500."
Geddes used Mr Adamson's pin code to take the cash between July 17 and July 22, 2015.
She then returned to Mr Adamson's home in Forres on August 24 this year to take another £40 from her victim.
Geddes initially hid in a cupboard when a carer arrived before giving a false name and claimed she was looking for a plaster before running off with cash from his wallet.
Defence solicitor James McKay said: "Mrs Geddes has quite a serious problem with drugs. She has not got any benefit from these thefts. She has been using the money to pay for drugs."
Geddes also pleaded guilty to stealing £220 from Ashgrove Caravan Park in Elgin on April 9, 2010 and two laptops from a property on Hainings West in Forres on August 20, 2014.
She also used bank cards to take £160 from the account of Gregor Breen on August 30, 2014, a further £160 from William Stewart between August and September the same year, and a further £250 from Stephen Garner on May 26 last year.
Geddes was sentenced to a total of 606 days in prison after also pleading guilty to assaulting her neighbour on August 20 last year.