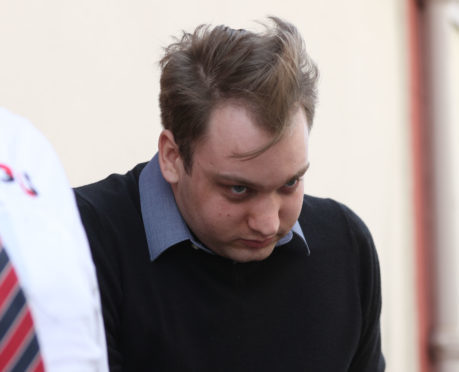 A pervert who threatened to rape and drown a 13-year-old girl if she did not send him obscene images of herself was jailed for 27 months yesterday.
Joshua Pemberton attempted to extort indecent images from two underage girls and harm them if they did not, Inverness Sheriff Court was told.
When police traced the 21-year-old they found other obscene and illegal images and videos of children, including six from one of his victims.
The sentence was last night welcomed by children's charity NSPCC Scotland.
A spokesman said: "Pemberton used social media to develop a relationship with his young victims before exploiting them appallingly.
"Online safety is one of the major 21st century child protection challenges and we know the internet is used as a gateway by abusers to commit hundreds of offences against children each year.
"It's every parents nightmare that their child will be targeted in this way and it's crucial more is done to ensure children's privacy and safety online."
Pemberton, of Ruisaurie, near Beauly admitted downloading and distributing indecent photos of children when he appeared at Inverness Sheriff Court.
He also pleaded guilty to attempting to extort naked pictures of one girl by threatening her, extorting images from the second girl by threatening to rape then drown her, and causing a young girl to view an indecent video.
Sheriff Eilidh Macdonald told Pemberton: "These charges are serious, sinister and particularly disturbing with threats of considerable violence."
Defence solicitor Shahid Latif said his client suffered from a form of autism and had "an impaired ability to understand the consequences of his actions".
He added: "He has been assessed as having an emotional age below his physical years.
"He doesn't have a lack of empathy out of malice or being callous, his lack of maturity and his autistic condition affected his appreciation of the wrongfulness of his actions.
"But he can be rehabilitated without going to prison."
The NSPCC Scotland spokeman added that their #WildWestWeb aims to force social media companies to use technology to flag up grooming behaviour to moderators and warn children before they are abused.