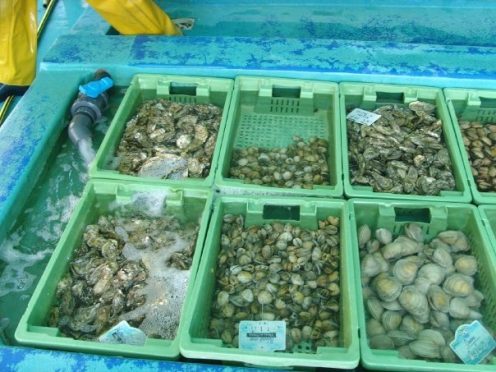 A shellfish company was fined £2,400 for failing to comply with the "administration" for putting cockles and mussels into the human food chain
Archaracle-based GC Shellfish Ltd had been barred from holding a licence to supply the seafood after the offences came to light, Fort William Sheriff Court heard.
The company, represented by director Gordon Cameron, pled guilty – as a food business operator – of failing to fill in triplicate paperwork for cockles and mussels, and marine gastropods, between April 8 and November 15, 2016.
The firm also pled guilty to selling marine gastropods without documents.
However, they pled not guilty to charges of acting as a gangmaster using illegal workers, placing bivalve molluscs from certain waters on the market for human consumption,  and putting on the market "molluscs not classified as safe by the local authority to the danger of life and serious injury of leiges".
These pleas were accepted by the court.
The court heard that an anonymous tip-off to Highland Council had led to a multi-agency investigation into GC Shellfish that took place in November 2016.
Solicitor Alan Gravelle said: "We are left with two administration charges for sentence.
"There are references to the triplicate system that is in place at Highland Council.
"The pickers have the paperwork to fill out, the first sheet stays with them and the second is sent to Highland Council, and the third copy should stay with the product.
"The company have been dealing in cockles and mussels since 2016.
"This was a multi agency investigation led by Highland Council. As you are aware there were a number of charges before the court – many of which were much more serious.
"GC Shellfish has diversified the business and deals in other shellfish such as Velvet Crab and lobster. If it wanted to trade in cockles and mussels again it would need to reapply to Highland Council for a licence."
Sheriff Eilidh MacDonald asked for the receipts paid to the cockle and mussel pickers for the period on the charge, and the amount that was paid for the shellfish on the open market.
Procurator fiscal Martina Eastwood confirmed that £1,453 was paid for 603kg of shellfish from pickers – and it had then been sold onto the open market for £3,284 – a difference of £1,831
Sheriff MacDonald said: "These rules are in place for a reason and you will be fined £2,400, discounted from £3,000 due to your early plea."