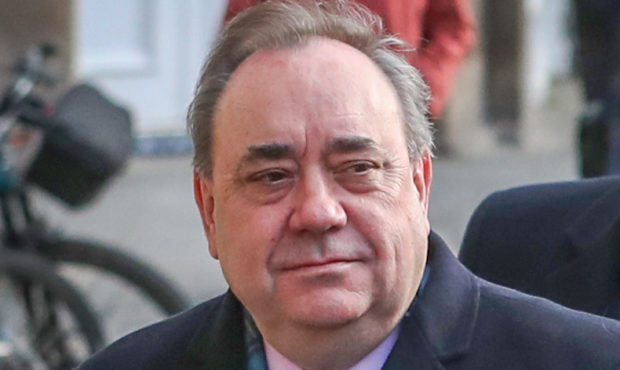 A curfew was put in place to stop women working alone at night with Alex Salmond following an alleged sex assault six years ago, a court has heard.
The former first minister is on trial at the High Court in Edinburgh accused of a string of sexual and indecent assaults against 10 women, dating from 2008 to 2014.
He denies the charges, and has lodged special defences of alibi and consent for a number of them.
Yesterday, one of his accusers – known as Woman G – told the court about a "frightening" encounter with Salmond in April 2014 which she said resulted in new rules being brought in to prevent women working with him alone.
But she said she kept the allegations from the police at the time due to fears "a scandal" may devastate the chances of the Yes campaign winning the upcoming independence referendum.
The civil servant said she was told by the 65-year-old to return to Bute House with him following a dinner in Edinburgh in 2014.
She said that she left government papers in the sitting room and was about to leave when Salmond "beckoned" her to sit next to him on the sofa while he patted a cushion.
She says Salmond then poured limoncello – before inviting her to do "shots" with him.
Woman G said she then began to feel "slightly intimidated" and "trapped" as he made "inappropriate" comments to her – including a request to call him Alex instead of first minister.
She told the jury she then began making excuses to try and leave, including inventing a story about relatives waiting for her, before Salmond made a comment about what "he would do" to her if it was not for her job.
Advocate depute Alex Prentice QC, prosecuting, asked: "What did you take that to mean?"
Woman G replied: "I thought it meant that he would try and have sex with me, to have sexual relations with me."
Mr Prentice asked: "Did he do anything else?"
The civil servant replied: "He put his arm around me. At that point I started to feel panic and he leaned in to kiss me."
The woman said she then got up to leave at that point, describing Salmond as appearing "frustrated" and "almost defeated". She added that she contacted colleagues to say she would not be at work the following day, where she was due to be with first minister again.
She said that she "hated" the former first minister for his conduct on the night and explained that new staffing arrangements were introduced after she raised her concerns.
Mr Prentice asked: "What was the change?"

She replied: "The biggest change was that women were not to be alone with Mr Salmond in Bute House and he was not to receive any support, I think it was after 7pm or 9pm, unless there was specific government business to attend to."
Woman G also described a "playful" smack on the buttocks from Salmond following a trip to a Glasgow restaurant in March 2012.
Mr Prentice asked: "How did you feel about it?"
She replied: "It felt demeaning and it made me feel like I was a play-thing for him."
During cross-examination, defence advocate Gordon Jackson QC questioned why Woman G did not report the alleged incidents to the police at the time.
She replied: "I feel that if I had come forward and become involved in some sort of scandal it would have impacted on the independence referendum because of the reporting of it and what his political opponents would seek to do with that information.
"It would have been extremely detrimental to his cause and I was also conscious that I didn't want my identity to be known.
"I also thought I didn't have any other option to do a job in government. I moved on and forgot about it because otherwise I would have to leave."
Mr Jackson also questioned why Woman G chose not to take part in the Scottish Government's internal investigation about complaints about Salmond.
He asked: "Why did you have no confidence in the process?"
Woman G replied: "I asked questions about what would happen if he (Salmond) were to take it to a judicial review. Their response was that he would never do that because it wouldn't be in his interests to do that.
"I made my view known that the government process was flawed and the people leading it had no idea who they were dealing with.
"I decided I didn't want to part of it. It was not to do with not wanting to offer my experiences, I regretted not being able to share them."
The trial continues.