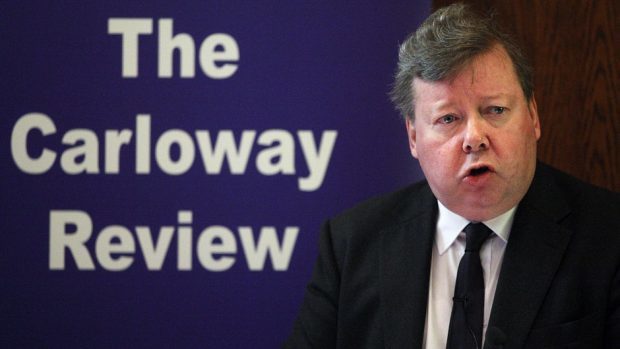 Scotland's most senior judge has said it is time to stop "tinkering around the edges" when clearing the backlog of criminal cases rapidly piling up.
Lord Carloway, the Lord President of the Court of Session, said there could be more than 3,000 outstanding trials by next March, without further intervention.
Video links are becoming increasingly common to allow people to appear in court from custody or their homes, limiting the number of people coming into contact with one another in court buildings.
Last week the first virtual summary trial – where evidence is presented to a sheriff without the need for a jury –was completed in Aberdeen.
And it has been announced that the fatal accident inquiry into the Sumburgh helicopter crash off Shetland in 2013, in which four people died, will now be held remotely in August.
But the need for social distancing has limited the capacity to hold trials involving a jury and, without further changes, Lord Carloway says the backlog of such cases could exceed 3,000 by next March.
He said: "High court cases are to be held in an environment which meets the physical distancing requirements.
"This will require two or three courtrooms, and not just one, for each trial.
"This model will reduce our trial capacity to 30%."
Lord Carloway said the presence of technology in the courtroom is likely to continue for some time.
"This is not the time for a defence of tradition," he added.
"The cry of 'it's aye been' cannot prevail.
"We have to seize the momentum and opportunity to respond to the particular challenge.
"The reward of having a new vibrant, progressive, digitally-enabled courts and tribunals service may be just within our grasp."
But with this in mind, the Lord President has said further action is needed from law-makers to fully resolve the issues currently being faced.
He added: "I have no doubt that primary legislation will be required to address some of the technical constraints that apply at present.
"None of the measures proposed by others have so far come close to offering practical answers to what are real difficulties.
"They are simply tinkering at the margins of a major problem which, as long as social distancing and self-isolation are in place, requires a political solution."
Earlier this week, Lord Advocate James Wolffe QC revealed there were 49 homicide and 465 serious sexual assault cases awaiting trial.
Giving evidence to Holyrood's justice committee, Mr Wolffe said that as of June 10, there were 717 cases awaiting trial at the high court, 1,584 sheriff and jury cases.
Crown Agent David Harvie, head of Scotland's prosecution service, added that during lockdown, a further 21,000 summary complaints – for less serious offences – had been served, on top of the outstanding 18,319 summary, solemn, sheriff and jury and high court cases at the end of March.
He told MSPs: "Regrettably throughout lockdown, one of the truths is that crime has continued."