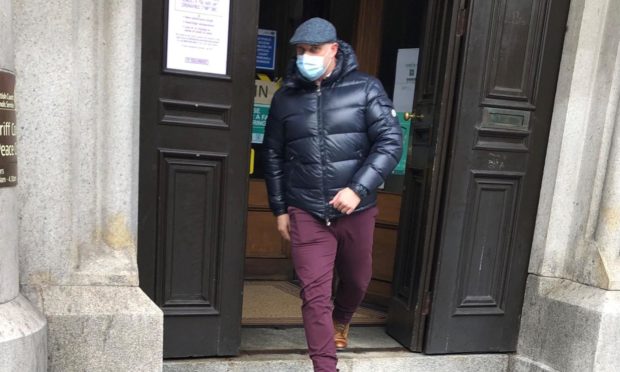 A man has been fined after a six-year parking dispute culminated in him turning up at his neighbour's door armed with an axe and chainsaw.
Steven Ballantyne, 41, threatened to damage the man's car if he did not move it.
Ballantyne's solicitor told the court the row related to Ballantyne's neighbour and his wife taking up more than their allocated parking space outside their properties on Cordiner Avenue, Aberdeen.
After driving home one day and finding he could not get parked, Ballantyne lost his cool and "stupidly" confronted his neighbour while armed with a chainsaw and axe.
Crown narrative
Fiscal depute Lucy Simpson told Aberdeen Sheriff Court: "At around 2.30pm on the day in question, the accused attended the complainer's home address.
"The accused rang his doorbell and spoke with him.
"There was a verbal dispute between the parties regarding the issue of parking.
"The accused requested the complainer move his vehicle, which was parked outside the accused's home address.
"He advised he was working and not currently in a position to move the vehicle.
"The accused left and returned to the locus in possession of an axe and a chainsaw.
"He threatened the complainer, requesting that he move the vehicle or else he would damage it.
"The complainer felt alarmed by the accused's behaviour. He remained within his home address and contacted police.
"Police officers attended a short time later and traced the accused.
"He made admissions regarding being in possession of the axe and chainsaw. He advised police he'd returned to his property and locked them away in a storage shed before police attended."
The charge
Ballantyne, of Cordiner Avenue, Aberdeen, pled guilty to behaving in a threatening or abusive manner by attending at the front door of the man while carrying a chainsaw and an axe.
The incident happened on January 25.
Mitigation
Defence agent Ian Woodward-Nutt said: "Mr Ballantyne is a 41-year-old man. He is separated from his long-term partner
"The area he lives in is comprised of six adjoining, terraced townhouses. They have allocated to them six parking spaces, one to each property.
"I understand over the last six years or so there have been issues with the complainer and the complainer's wife who use two of the allocated spaces for two vehicles. That has caused Mr Ballantyne and his neighbours significant difficulties.
"On January 25 Mr Ballantyne had been out with his young daughter. He had returned in his car to his home to find all the spaces had been taken, and two of the spaces had been taken by the complainer and his wife, leaving nowhere for him to park.
"He had his daughter with him and required to park some distance away on double yellow lines.
"He attended at the front door of the complainer to ask if the complainer or his wife would kindly move one of their two cars to allow him to park. He assures me he was polite and civil and was confronted with the complainer who was rude and uncooperative and refused to move either car.
"Mr Ballantyne returned to his house, settled his daughter and returned to the complainer's house again to try and persuade him to move one of the cars, but he was again faced by the same reaction and by the complainer who, quite simply, refused to cooperate.
"It was thereafter he committed what he accepts was a grave error of judgement.
"He is an amateur arborist and assists friends on a voluntary basis with tree felling and firewood preparation.
"He has a small, petrol-driven chainsaw and an axe for that purpose.
"He lost control and collected these items. Stupidly he returned a third time to the complainer's house and he accepts in doing so there was a threat inherent in that behaviour."
Quoting his client directly, Mr Woodward-Nutt said he had told him: "I absolutely hate myself for doing this."
The solicitor added: "It was behaviour that is clearly out of character.
"It seems he pretty quickly came to his senses and he returned the items to the shed and returned to the complainer' property a fourth time to apologise and try to make amends.
"He appears to be horrified by his behaviour. His relationship had recently broken down and he had lost his job.
"He assures me he had absolutely no intention of seeing through any sort of threat."
Sheriff Mann's comments and sentence
Sheriff Philip Mann told Ballantyne: "This was an incredibly stupid thing to do.
"I can understand the frustration that arose relating to parking when parking spaces are at a premium.
"The reality is you have to retain your status as an adult and not descend into childish behaviour.
"It's a bit startling that you chose to essentially arm yourself with weapons when confronting your neighbour.
"I'm prepared to view this as something which was quite out of character."
He fined Ballantine a total of £420.
Ballantyne speaking outside court
Following the hearing, Ballantyne said: "The items were never intended for use.
"I wished to have a peaceful resolution to the parking dispute which has been going on for six years.
"I apologise that it escalated to that stage.
"I only wish to co-operate with my neighbours and be accommodated in return."