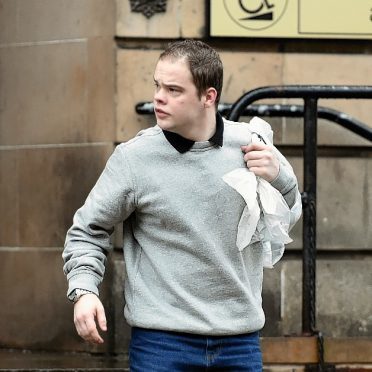 A man who terrorised his girlfriend by waving a ball-bearing gun at her while high on cocaine has been spared jail.
Elgin Sheriff Court heard yesterday that Andrew Hogg referred to the dangerous weapon as "his baby".
He stood tapping it menacingly against a window when his then-girlfriend Angela Mackenzie called at his grandmother's home.
The couple split up weeks later – and 24-year-old Hogg attacked Ms Mackenzie after finding out she had a new boyfriend.
Fiscal Kevin Corrins told the court that the duo started a "brief relationship" at the beginning of last year.
Mr Corrins said: "The accused showed Ms Mackenzie a picture of what looked like a gun, and referred to it as 'his baby'.
"Last year, on Sunday, February 22, Miss Mackenzie attended Hogg's grandmother's house.
"After his grandmother answered the door the complainer became aware of a tapping sound from an upstairs window, and when she looked she saw the accused holding a black handgun against it.
"She was placed in considerable fear by that, and the relationship ended towards the end of that month."
The court heard that the couple remained in contact, despite going their separate ways.
However, the amicable relationship turned ugly on Tuesday, March 3, when Hogg became incensed after hearing his former partner talk about her new boyfriend.
Mr Corrins said: "The accused made comments about Ms Mackenzie's new partner, and was asked to leave the property.
"He refused to do this, and punched Ms Mackenzie on her right knee and thigh."
The incidents were later reported to the police, who were concerned by the report of Hogg possessing a gun and searched his home for the weapon.
Although it was never recovered, he admitted charges of behaving in a threatening or abusive manner by brandishing a ball-bearing gun, and of later assaulting Angela Mackenzie.
The court heard Hogg, who is originally from Glasgow but was staying at Trinity Place in Elgin when the offences were committed, was under the influence of cocaine and "thought it would be funny" to gesture with the gun towards his then-partner.
Hogg said he believed she would understand the act was intended "as a joke".
The court heard that he had since tried to address his drugs and alcohol problems and "accepted the serious nature of his past behaviour".
Hogg had been on remand after serving a custodial sentence for other offences.
Sheriff Olga Pasportnikov ordered him to complete 180 hours of unpaid work over the next six months.
He will also remain under supervision for the following 18 months in an effort to prevent him from reoffending.