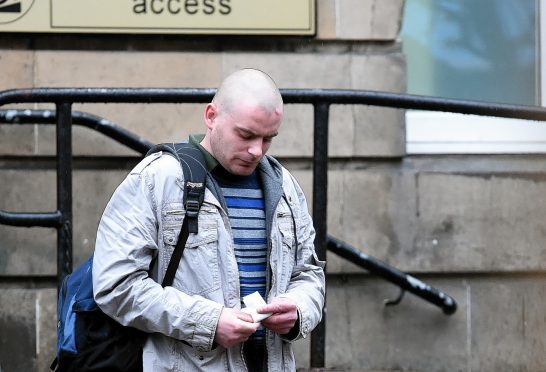 A Moray man flew into a jealous rage when he returned home from a drinking session and discovered his partner had been given flowers.
Maryann Stewart had actually received the bouquet from her mum – but Ian Mitchell became so enraged that police were called to the Elgin home the couple shared.
An intoxicated Mitchell was paranoid the blooms had been sent by "some fancy man".
At the town's sheriff court yesterday the 26-year-old was ordered to do 120 hours of unpaid work in a "last ditch attempt" to keep him out of prison.
The court heard that Mitchell and Ms Stewart had been together for more than six years, until his unruly behaviour brought things to an end.
At 5pm on Saturday, December 6, 2014, Mitchell returned to their home at Findhorn Court after spending the afternoon drinking with friends.
Fiscal Kevin Corrins said: "The accused noticed some flowers which had been given to Ms Stewart by her mother, and reacted by questioning whether 'some fancy man' had given her them.
"His behaviour became aggressive and intimidating and he called Ms Stewart a liar in relation to her explanation for the flowers."
Fearing the situation was spiralling out of control, Ms Stewart called the police.
Mitchell, of 146 Milton Drive, Buckie, admitted behaving in a threatening or abusive manner and making abusive remarks to Ms Stewart.
The court heard that in August he then threatened police offers who entered his bedroom and woke him up, and had to be restrained and handcuffed.
His agent, solicitor Stephen Carty, said: "My client's course of conduct falls far below what he would expect of himself and what the court would expect of him.
"His offences are all underpinned by his use of alcohol, and until he gets to grips with that he is likely to continue to offend."
Sheriff Olga Pasportnikov warned the habitual criminal that he was in "last chance saloon".
She added: "This is a last ditch attempt to spare you a prison sentence."
Mitchell will now remain under supervision for 18 months, during which time he will have to attend alcohol counselling sessions.
He will also have to complete 120 hours of unpaid work in the next six months.