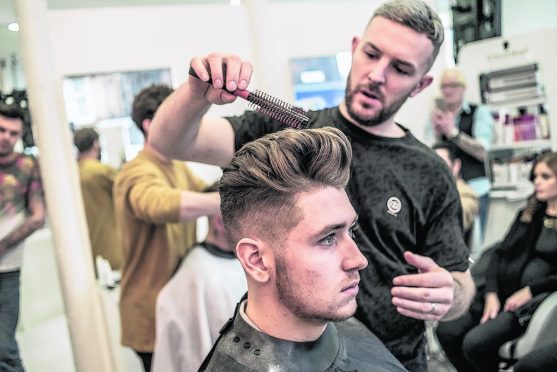 Aberdeen salon Linton & Mac will play host to two of the most established barbers in the UK this weekend. Cheryl Livingstone speaks to one of the UK's top barbers, Alan Beak, ahead of the special event
YOU'RE KNOWN AS ONE OF THE BEST MALE BARBERS IN THE UK. WHY DO YOU THINK THAT IS?
I guess it's all down to my passion for education and my confidence in doing something different and taking risks. The demand for barbers over the past few years has grown amazingly, and teaching at events and workshops like the one at Linton & Mac this weekend is why I do it.
This year, I was awarded the British Master Barber 2015 by the British Master Barbers Alliance, due to my commitment in educating within the industry, and sharing my knowledge to develop and grow the industry. People helped me get to where I am today, so I want to help influence as many people as I can.
COLLABORATION IS HUGE IN BARBERING, WHAT DO YOU THINK EVENTS LIKE THESE BRING TO THE INDUSTRY?
This collaboration with the team at The Great British Barbers Bash and Linton & Mac has been a very exciting project to work on. We all seem to have the same ethos and want to progress the industry. I started out in this industry when I was 12, and sharing knowledge and pushing one another to try out different techniques and skills means we can grow the industry in different ways together, which is very exciting.
WHAT CAN AUDIENCES EXPECT TO LEARN FROM YOU AND YOUR BROTHER REECE AT THE WORKSHOP AT LINTON & MAC THIS WEEKEND?
We will be showcasing the latest trends in the industry, as well as teaching guests all about our basic formulas in achieving the perfect cuts. It's all down to manipulating and adjusting different techniques.
It will be great to produce a number of different looks on the Linton & Mac models and I'm looking forward to hearing what the guests want to learn about and giving them the best advice in achieving their desired cuts.
WHAT ARE YOU MOST LOOKING FORWARD TO ABOUT THE EVENT?
I've never been to Aberdeen before, so I'm looking forward to seeing what styles and techniques the girls at Linton & Mac use in the salon. It's important to meet new people in the industry, as many of them have different techniques and ways of achieving quirky styles. The creative directors at Linton & Mac seem to be extremely forward-thinking, so I'm looking forward to seeing how they operate and quizzing them on their most popular sought-after styles.
WHY DO YOU THINK PEOPLE WANT TO LEARN FROM YOU?
I think people recognise my passion and love for the industry. The effort and enthusiasm I put into every haircut is apparent to all of my clients, and others across the industry recognise this, too.
My style is very different to mainstream barbering; our shop is a hybrid of traditional Italian barbering and women's hair styling, allowing us to tailor our techniques to all of our clients. I'm also not afraid to give people something a little out of their comfort zone, ensuring their cut suits their style and face shape.
The event takes place on Sunday, January 10, at Linton & Mac, 18 Netherkirkgate, Aberdeen, from 10.30am. Tickets are priced at £65 per person to spectate and £140 per person to participate in a full day of working hands-on alongside these top professionals. Lunch and refreshments are included in both ticket prices.