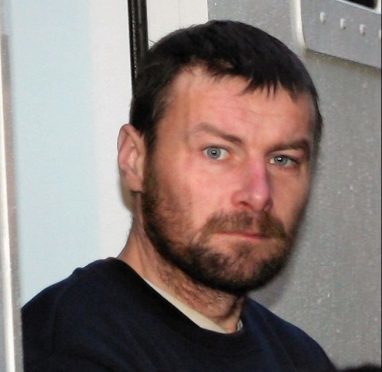 A bungling thief who was acquitted of a break-in at an Inverness city centre shop was caught at the same premises hours after he walked free from court.
Peter MacAllister was filmed on CCTV as he cut his hand smashing a glass panel to get in to the store, leaving blood which identified him.
The 36-year-old also broke the zip of his jacket which was matched to him by police. In a third blunder, officers also found two stolen £50 notes still in his pocket when they searched him soon after.
In February, MacAllister was found not guilty of housebreaking at opthometrists, Goskirk and Pettinger in Inverness's Union Street.
But yesterday, Inverness Sheriff Court heard that hours after he was acquitted, repeast offender MacAllister was arrested by police on suspicion of carrying out the new raid.
The same shop had been broken into and MacAllister, who had cut his hand during his illegal entry, was identified by the DNA in his blood.
CCTV captured images of him cutting his hand as he smashed his way into the shop. A broken zip was also discovered in the premises which matched his jacket and when police detained him, he still had the £50 notes he had stolen in his pocket.
Yesterday, MacAllister, described as an Inverness prisoner, appeared from remand and admitted two charges of theft by housebreaking and another of police assault. Not guilty pleas to six other charges, including breaking into a lawyer's office and the Chest Heart and Stroke premises in the city centre were accepted.
Sheriff Gordon Fleetwood jailed him for 22 months.
Fiscal depute Michelle Molley said: "On 23 February 2016, he was acquitted on Indictment of theft by housebreaking at Goskirk Pettinger.
"He was released from custody later that day. On the same day an employee at Goskirk Pettinger secured the premises around 5.30pm.
"A cash float was inside the premises containing £140.00, which consisted of two £50 notes and the balance in small change.
"When the employee returned to the premises to open up at 9am the following morning he discovered someone had broken into the premises. The glass panel on the front door had been smashed.
"He discovered traces of blood within and the sum of £140.00 in cash stolen. The damage to the front door cost £160.00 to repair."