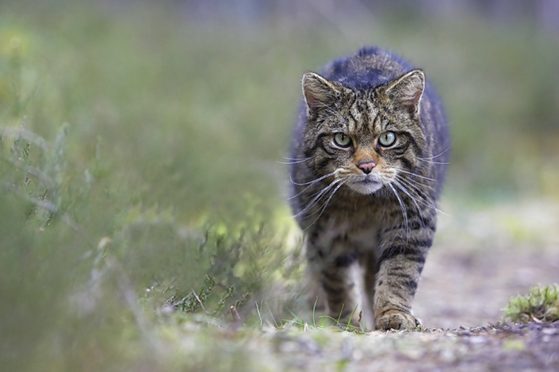 The biggest-ever survey of the Scottish wildcat on a west Highland peninsula is producing some promising results.
The study by Scottish Wildcat Action (SWA) in the Morvern peninsula has revealed fresh images of two wildcats – one of the most endangered species on the planet – which appeared in the area two years ago.
The images come as a neutering and vaccination programme with feral domestic cats gets set to begin at the end of this month.
Its aim is to protect the few wildcats that remain from interbreeding – or hybridisation – with domestic feral cats and disease.
The Morvern peninsula is one of the conservation group's six wildcat priority areas.
It is the only site on the west coast and stands out as the most promising for conservation for being both the largest and most remote area, with by far the lowest human population.
But these advantages have been threatened by the historical triple-threat of persecution, releases of un-neutered feral cats, and the extinction of the local rabbit population, an important prey species.
Scottish wildcats do persist in Morvern but they are low in numbers, and their continued presence could be down to a small number of resilient survivors.
The SWA – a partnership of more than 20 nature and conservation organisations – began their study in December in a bid to protect the species.
In 2014, a Scottish Natural Heritage scoping survey identified three Scottish wildcats from trail camera images – and two of these cats have already returned to cameras this season.
The highest scoring cat was called Mor-A, also known as Skeletor due to distinctive black splotchy markings on his back.
He is a familiar face to many living on the south-west coast of the peninsula, and has damage to his right eye which does not reflect light back to the infrared camera traps.
Another juvenile domestic cat, thought to have some wildcat in her from her markings, was also picked up again this season, but is still a low scoring hybrid.
One other domestic cat has been located through the study and will be targeted through the programme.