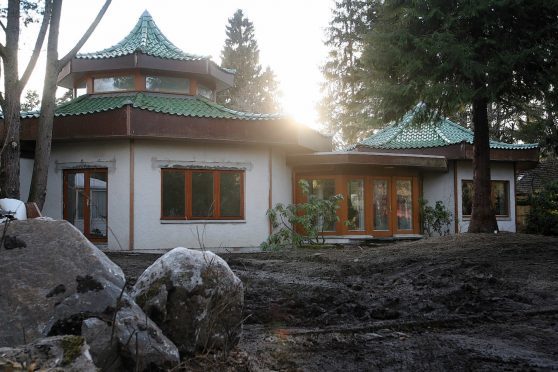 A Highland lodge containing the region's biggest private indoor swimming pool is to be used as a respite centre for couples affected by dementia.
The project will be the latest part of a project run by Ian and Elizabeth Boyd, who have already transformed an old Japanese pagoda and Victorian villa at Grantown's Moray Park into a community centre and soon-to-be luxury spa.
Part of the villa will become the spa, due to open in May, and the upper half is to be used as offices by a major gin distiller.
The pagoda community centre opened in mid-November and has already been used for several art exhibitions, dance and yoga classes and conferences.
And last Thursday, the couple unexpectedly secured five weeks of bookings at Moray Lodge from a holiday company, Mind For You, which specialises in care and respite for couples where one spouse is affected by dementia.
A total of five couples have already been booked for the first week in May, and the aim is to fill the other four weeks by the end of the year.
Mrs Boyd said that couples will be able to stay at the lodge exclusively on weekdays, and that the plans is to open a 'dementia cafe' inside the pagoda.
The lodge also has the biggest private indoor pool in the Highlands, measuring 52ft x 20ft.
Mrs Boyd added: "I think everything is starting to come together. We were approached by a company which run holidays just for couples where one of them has dementia, and they want to take Moray Lodge mid-week and bring more people up to the Highlands.
"If your husband or wife has dementia, you will have the morning to yourself to go swimming and carers take care of your other half, and then you can meet up and go on a tour to somewhere like Urquhart Castle.
"The pagoda is really busy – it's really taken off. It's quite overwhelming as we were not expecting to be anywhere near this busy."
Carol Sargent, founder and CEO of Dunfermline-based Mind for You, said the opportunity for her clients to mix with people in the community through the dementia cafe, as well as make us of the new spa, were big draws.
She added: "This is a first time for the Highlands as one of our destinations."
The new spa will be run by local woman Carley Timms and, when it opens, will contain a Jacuzzi, steam room, sauna and treatment rooms.
In April, Mr and Mrs Boyd will take on a graduate who will help organise events at the pagoda.