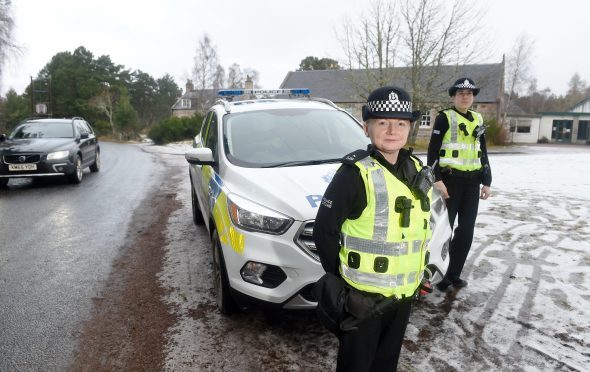 Parents on the school run and other local drivers could be brought to book amid serious concerns about poor driving and parking near a Highland primary school.
Police have issued a warning after complaints about driver behaviour near Abernethy Primary School in Nethy Bridge in the run up to Christmas.
Officers warned that they would be keeping an eye on local roads near the school to make sure there was no speeding or dangerous parking.
Constable Lewis Macleod said: "Speeding or other anti-social driving around schools is highly dangerous and anyone caught driving in this manner will be dealt with appropriately.
"Driving past schools can be particularly hazardous at the start and end of the school day, with an increase in pedestrians and parked vehicles and especially at this time of year during longer hours of darkness.
"We would like to praise the majority of drivers that drive with extra due care and attention at these times."
It is understood that officers will also be liaising with the school and going into class to teach the pupils about road safety.
Ross Watson, 37, Chair of the Abernethy Parent Council, said: "There has been people driving past the school at well above the 20 mph speed limit when the lights are flashing.
"There has been a couple of close calls involving the kids and drivers not observing the speed limit."
He added: "Parents and the rest of road users have a responsibility to drive well, but I wouldn't want to point the finger at a particular group."
Sandy McCook, chairman of Nethy Bridge Community Council, said: "People have contacted me about this and I am aware that it has been brought to the attention of the school.
"Road safety in school car parks and on roads close by is of the utmost importance and I am delighted that Police Scotland in conjunction with the school authorities are looking into concern of inappropriate driving locally."
The convener of the Highland Council, Bill Lobban said: "I would wholeheartedly support the police in their efforts to improve driver behaviour outside our schools."
He said: "Kids are particularly vulnerable just before and after school hours especially during winter and I would urge all drivers to take extra care outside schools."