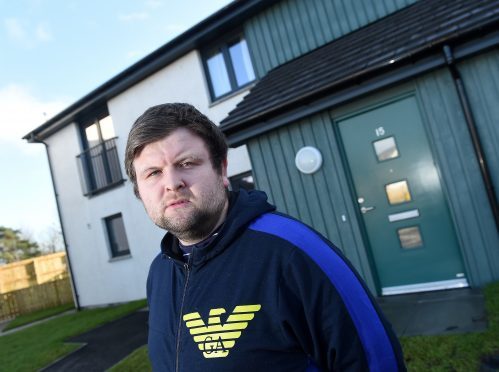 A Ross-shire tenant claims the council has failed to properly address his repeated complaints about large cracks developing in the ceilings and walls of his home.
Lee Jefferey said the problems have worsened in his Muir of Ord property since he moved there on October 10, 2017. And he says that the doors to his bedroom, kitchen and bathroom have not been closing properly.
A Highland Council spokeswoman said it is aware of such issues being raised by tenants living in the timber frame homes at Drovers Court, and is in the process of addressing them.
Mr Jefferey claims he complained about the issues in October.
But both the local authority and the building contractors said they were only made aware of Mr Jefferey's complaints on January 10, and the contractor has since scheduled for repair work to be carried out on February 26.
Bell Contracts facilities manager for the project, Mark Carron, also stressed that they have a year to rectify what he described as "settlement cracks," which he said were a normal occurrence in new builds for up to eight months after work is completed.
Mr Jefferey, 27, said: "I've been on the phone to the council's senior maintenance officer who keep saying it will be sorted in due course.
"I just want someone to come round because these are real issues. On Saturday morning I woke up and looked above my bedroom door and there was a crack at the end of the door. There are cracks in all of the rooms.
"I moved in in October and have had problems from day one. There are bits of white stuff coming down from the ceiling. It's ridiculous that nothing has been done about it."
The houses, which are timber frame construction, were completed last summer.
The council spokeswoman added: "The project consists of 23 houses of timber frame construction. With this form of construction a degree of shrinkage is anticipated and made good once the building has been in use.
"The building contract includes a one year "rectification period" where the contractor rectify any issues arising with the buildings.
"We have a rigorous process in place to identify and address snagging items with Highland Council's Housing Maintenance Service and the main contractor, monitoring and making good such items as they arise.
"Shrinkage is not unusual in newbuilds and tenants are warned at handover. It doesn't affect the property's safe use and the contractor has already made arrangements to rectify in February."