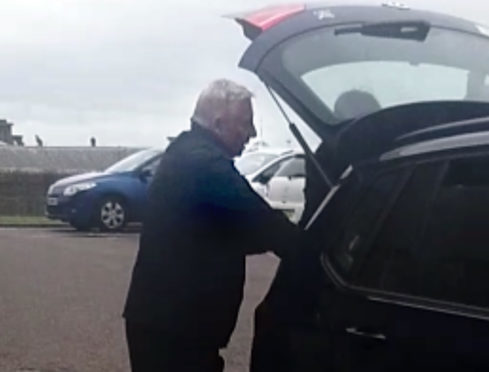 It could have been a comedy sketch from "Carry on Camping" when a 77-year-old pensioner decided to move his van in the middle of the night.
Alistair MacMillan, from Lennoxtown in East Dunbartonshire, had been drinking earlier in the day and ignored his wife's advice not to drive.
He got behind the wheel and promptly drove the VW transporter camper van off Embo Pier in Sutherland and into the Dornoch Firth.
The vehicle ended up partially submerged in the water.
Inverness Sheriff Court heard that 69-year-old wife Doreen managed to escape with her husband, and ended up wading waist-deep in nightclothes out of the Firth to safety.
MacMillan, who appeared from custody, admitted driving carelessly on May 21, refused to comply with an instruction to stop and driving into the Dornoch Firth.
He also pleaded guilty to driving while almost twice the legal drink driving limit – 39mgs of alcohol, when the limit is 22mgs.
Fiscal depute David Morton told the court that the couple had driven north on Friday to enjoy the good weather in the Highlands.
They parked their vehicle in the popular caravan and camping site of Grannie's Heilan Hame at Embo, a few miles from Dornoch.
He said the couple had been in a local bar during the day and retired to bed that evening.
"Around 2am, his wife woke up as her husband was acting strangely."
Mr Morton said that MacMillan told her he was going to move the van but she advised him against it because he had been drinking.
"He didn't take her advice, started it up and drove it off the pier into the sea."
Macmillan, who refused to comment afterwards, was fined £900 and banned from driving for a year.