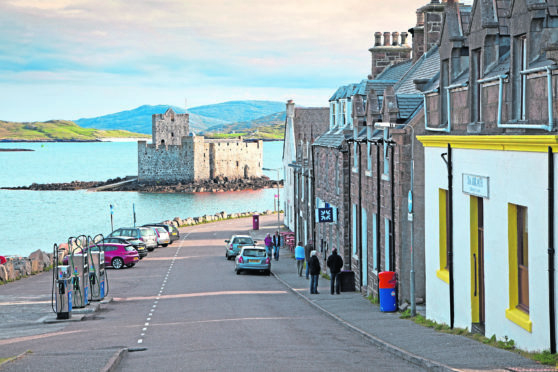 The Royal Bank of Scotland is to suspend its mobile bank van service on the Isle of Barra because of low usage, lack of ferry capacity and local hostility towards staff on some occasions.
Castlebay RBS was one of 10 branches given a reprieve until the end of the year in the bank's controversial round of closures – but the bank started sending a mobile van every week anyway.
But from next Monday the van will be scrapped, although if the branch does eventually close it may be reinstated.
An RBS spokesman said: "In the meantime, due to a range of factors including low usage, the ferry capacity and a degree of hostility our staff on the mobile branch have faced on a small number of occasions, we are suspending the mobile branch service from week commencing July 2, until the review is complete (end of September).
"Our colleagues will be informing customers over the coming days, whilst the mobile branch is still running."
Western Isles MP Angus MacNeil, who lives on Barra, praised RBS for changing their minds about the "foolish" decision to bring in the mobile van in the first place.
He added: "I think everybody has made the case very strongly and hopefully we will get confirmation from RBS that they are abandoning plans (to close the branch) and this is a good first step. I am hoping there will be more steps to follow."
Business owner Pauline Bari, who runs the Kisimul Cafe in Castlebay, says the van was brought in to "get people used to the idea" but because the bank is still there, people are clearly still using it.
She hopes this shows RBS bosses that the bank should be kept, stressing that it provides vital facilities for private consultations, bereavement services and conducting international payments.
She added: "I have had quite a few meetings regarding the business, and on different occasions have had to have a private meeting with someone who comes to the island. They have got these facilities in the bank and to take it away is like going back in time.
"Although we are on a remote island, it's still the 21st century. These are things you can not do online, they have to be one-to-one."
The independent review, being carried out by chartered accountant Johnston Carmichael, will finish at the end of September and it includes all the alternative ways of banking.