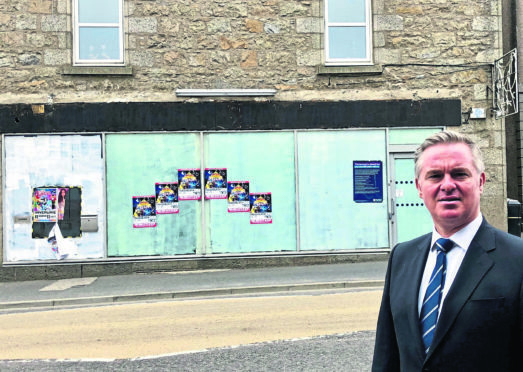 RBS should shelve any plans to axe 10 rural branches until a "proper study" can be carried out into the impact of all bank closures in Scotland, according to MSPs.
Holyrood's economy committee issued the demand yesterday as it proposed a Scottish Government summit to find solutions to a series of concerns raised in a new report.
The influential group of MSPs also recommended that a new system be introduced which would require banks to carry out consultation before, not after, they decide to shut down a branch.
Anger over RBS branch closures as north politicians insist UK Government step in
And the banks were also urged to engage with local communities on the future use of empty branch buildings amid fears about the economic consequences for struggling high streets.
The report outlined how the five biggest banks in Scotland have axed almost 500 branches since 2010, close to half of the total, with RBS alone having shut 70% of its branches in the period.
Earlier this year, amid uproar at the latest move by RBS to close 62 sites north of the border, the bailed-out bank agreed a temporary reprieve for 10 branches – including Beauly, Castlebay, Inveraray, Kyle of Lochalsh and Tongue.
RBS last night pointed out they had appointed accountancy firm Johnston Carmichael to carry out a review and "they are meeting with local customers, representatives, employees and stakeholders in all ten communities to understand the impact of each individual closure".
But while the economy committee said it welcomed the review, it urged RBS not to proceed with any of the closures until a more detailed analysis can be carried out of the impact of axing branches across Scotland, and alternative provision found.
The report said: "Ultimately, the committee believes that these branch closures should be put on hold or cancelled, to allow a full and proper study to be done of the impact of the scale of closures across Scotland and proposals to be put in place to provide proper, workable alternatives."
The move was demanded as the MSPs insisted "urgent action needs to be taken" to address the consequences of branch closures on communities, businesses and charities,  and they recommended a Scottish Government-backed summit to draw up solutions.
Committee members also "questioned the adequacy"of alternative services put forward by banks, such as "community bankers" and mobile banks, for many customers, particularly vulnerable people.
Economy committee convener Gordon Lindhurst said: "After hearing from a wide range of people during the course of the committee inquiry, we are in no doubt that the loss of branches has had a negative impact on communities and businesses across Scotland.
"People told us that they feel abandoned by the banks following branch closures with alternatives offered by the banks often not meeting their needs. It is vital that people have access to cash and face-to-face banking services.
"The committee believes that banks must engage with people and businesses on their needs before deciding to close a branch. The UK Government should urgently carry out a full study into the effects on communities."
A Scottish Government spokesman said: "We continue to urge banks to listen carefully to the views of local communities and – particularly in cases where towns or rural communities could be left with no bank at all – to reconsider planned closures and preserve access to essential banking services for customers.
"Digital and online banking is convenient for some people but it is not suitable for everyone, and we know that many customers prefer face-to-face banking services.
"We will continue to work with banks to ensure that people across Scotland continue to have access to the banking services they need."
An RBS spokesman added: "We have committed to accepting the recommendations of this review in full."
MP says closed RBS branches leaving areas looking like 'warzones'
The sharp exit of RBS from north-east high streets is threatening to leave some places "looking like a warzone", according to a local MP.
Gordon MP Colin Clark hit out at the bank's "disorderly withdrawal" which he claimed had cast a blight on the appearance of Ellon town centre.
Mr Clark, who backed the Press and Journal's campaign to Save our Banks, has challenged bank bosses to tidy up the location and prevent the Turriff and Banff branches being left in a similar state now they have closed.
He said: "RBS not only abandoned Ellon, but left their part of the High Street looking like a warzone.
"The former bank is a complete eyesore. Such a disorderly withdrawal looks like a small business that went bust overnight – not a nationwide company.
"Considering the row RBS got into over closures, they could at least spend some money to leave the premises in a fit state.
"But they just ripped the sign off and walked away.
"This undermines local retailers' efforts to make Ellon an attractive place in which to do business."
A spokesman for RBS admitted that the branch shouldn't have been left in the state it was, and said a team had been sent out yesterday to try to tidy up the whole area.
They tidied up the fascia and the window covering, and also addressed the area around the ATM.
He pointed out that while the area "didn't look great", other people had put their own posters on the facade of the building.
He added: "We understand that, when branches close down, it can be difficult for colleagues and customers.
"We always try to do our best to leave the high street in as good an order as possible."
RBS chief executive Ross McEwan was accused of showing "contempt" for customers after brushing off MPs' appeals to reconsider closures.
Politicians from every party urged bank bosses in May to reconsider axing services across the north and north-east, appeals which fell on deaf ears.
Far from agreeing to halt the closure of branches in Wick, Aviemore, Nairn, Grantown on Spey, Banff, Turriff, Dyce, Bridge of Don, Ellon and Huntly, Mr McEwan confirmed they would be cut and also left the door open for fresh rounds of closures in just 18 months.