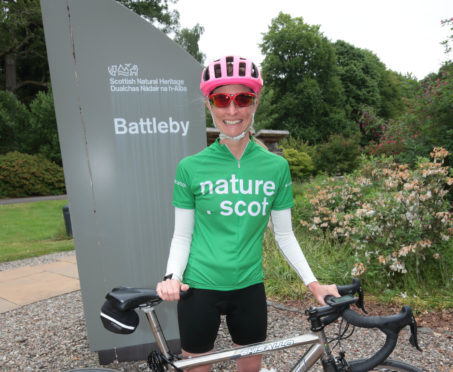 The chief executive of Scottish Natural Heritage (SNH) has set herself the arduous task of cycling over 1300 miles across Scotland over 35 days.
Francesca Osowska has spread the trip over a total of seven legs, each five days long, and on Monday she will start the sixth from Creag Meagaidh National Nature Reserve (NNR).
The route will take her along the spectacular Loch Linnhe coast on route 78 of the National Cycle Network.
She will cycle into the picturesque Kilmartin Glen which is home to hundreds of prehistoric standing stones, cairns, and cists.
The SNH boss will cycle across the west of Scotland meeting local staff at offices in Fort William, Oban, Bowmore, and Lochgilphead to discover more about their vital work "on the ground."
She will also be joined by members of the Argyll Community Trust to discuss the Collaborative Action for the Natural Network (CANN) project on Islay.
The project aims to restore peatlands that play an important role in tackling the effects of climate change.
She has currently cycled just over 1,000 miles out of a predicted total of 1,300.
She said: "Even before I started working for SNH, I was fascinated by the geographical spread of our offices.
"As soon as I was appointed CEO, I knew I wanted to meet all our staff – and, as a keen cyclist, it wasn't long before I shared my idea of cycling to each location."
She added: "SNH's aim is to connect people with nature, and I hope to be an exemplar of that during my cycle."
Over the seven legs of her cycle challenge the SNH CEO hopes to visit at least 38 offices and sites, including 12 National Nature Reserves.