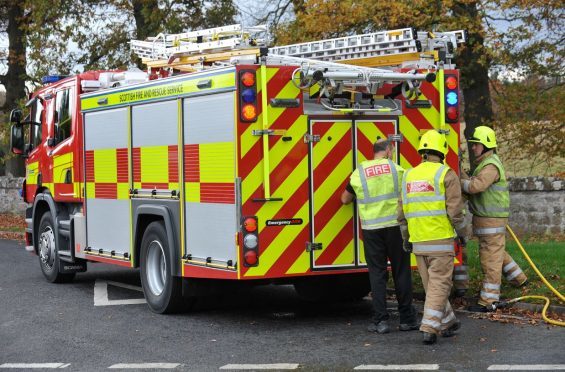 Customers and staff were evacuated after a fierce chimney fire struck a far north hotel at the weekend.
Four fire crews were called upon to tackle the blaze at Castletown Hotel, which broke out on the ground floor lounge bar at about 7pm on Friday.
Owner Andrew Mackay praised the prompt action of firefighters, which he said had confined the outbreak and prevented the whole hotel being destroyed.
He was relieved no-one was injured and hopes to have the hotel restored in time for the run-up to Christmas.
Nine rooms were occupied by guests when the fire started in the double-breasted chimney which serves the lounge and public bars.
Mr Mackay said: "My brother Sandy was there and said he saw a ball of fire drop out of the chimney.
"He and another staff member used two extinguishers, but the fire had got out of hand."
The fire brigade were contacted while staff ushered patrons who were in the bar area and in upstairs rooms out through fire exits.
Mr Mackay added: "The bars were busy at the time and the staff did well to get everyone out quickly and safely.
"The fire service was fantastic. Thurso [crew] were first on the scene and, but for their professionalism, we could have lost the lot.
"It's awful to have to stand there and watch your whole livelihood being out of control."
Firefighters from Wick, John O'Groats and Dornoch were also involved in the three-hour operation.
Mr Mackay explained the chimney had only been cleaned a fortnight prior to the conflagration.
He added: "The main bar and lounge bar have significant fire and water damage and there is smoke damage to some rooms above.
"The main thing is that no-one was hurt and everyone was evacuated safely."
The hotel honoured its bookings for dinner on Saturday evening and operated its usual carvery yesterday.
But the bars will remain out of commission until they are inspected by insurance assessors and repair work has been carried out.
Mr Mackay said: "We're hoping we can be back up and running as normal by the start of December."
The hotel, together with the Pentland Hotel in Thurso and the Norseman Hotel in Wick, are part of the Caithness Collection group.