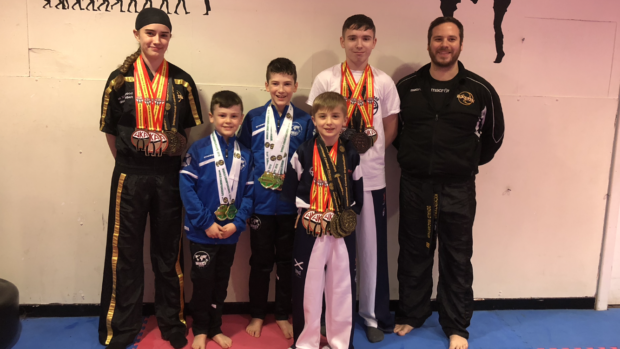 Five kickboxing enthusiasts have fought their way to victory to return to the Highlands as world champions.
Aidan Lennan, 11, and his younger brother Ciaran, eight, returned from the WKC World Championships in Dublin triumphant after winning an impressive six medals between them.
Aidan walked away with both a gold and a silver medal in his team events, as well as two bronze medals in his individual light contact and points fighting; meanwhile, his younger sibling following in his footsteps by winning a gold medal for both his individual points fighting and team events.
Mum Diane Lennan said: "They both fought in tough categories with a ridiculously high standard and have done us so proud – we can't explain it in words.
"They both had a phenomenal time, got to meet some of the biggest stars in kickboxing. They had a seminar and also a private Scotland team chat from American Kickboxing Legend Jadi Tention and they got to meet and watch fight Dean Barry, who is Ireland's Ross Houston, plus many many more amazing fighters.
---
>> Keep up to date with the latest news with The P&J newsletter
---
"They want to inspire the other kids to do the same. That's what the club's all about, the younger ones can see the older ones do what they do and they can go out and do it for themselves."
Meanwhile, 1172 miles away in Rome, three of their fellow Raijin Martial Arts team took to the ring at the ICO World Championships, racking up an impressive eight medals between them.
Ten-year-old Ollie Schofield from Dingwall proved age doesn't matter by returning home as a triple world champion for his points fighting and light contact.
Proud mum Michelle, 38, said: "He trains so hard, he goes to everything that comes his way; all the training opportunities. While most of his friends go away out playing, he is training. He is so dedicated."
Ellen Steadwood, 15, from Drakies, also returned a double world champion after winning two gold medals and a bronze medal. Scott Campbell, 15, from Alness, won a silver medal for his light contact fighting and a bronze medal for his points fighting.
Head instructor at Raijin Martial Arts, Donald McArthur, said: "We are all very proud of Scott, Ciaran, Aidan, Ollie, and Ellen's achievements. These fighters not only train tirelessly in classes, they also attend Scotland training sessions in Aberdeen, Glasgow, Edinburgh, and Wishaw. It's great to see their talent coming through and showing what strong teams Scotland has in kickboxing. It's inspiring to see such commitment from kids and the whole club has been very supportive."