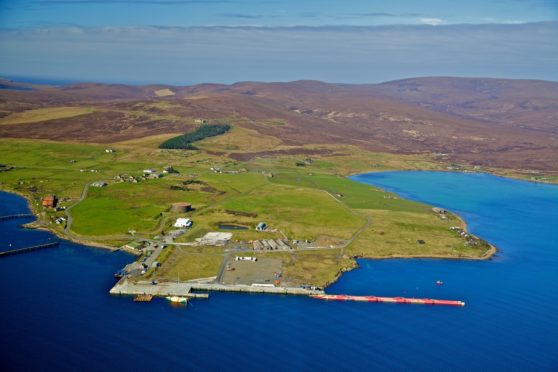 A council is asking the Ministry of Defence to help pay for a £400,000-plus clean-up of contaminated land at an old naval base on an Orcadian island.
Orkney Islands Council says the ground at Lyness on Hoy has historic oil contamination which dates back to its former use as a Royal Navy and NATO fuel depot.
The authority claims a serious pipe spillage is known to have occurred during its time under MoD ownership.
Councillors were told in a report that remediation works on the brownfield site, which was acquired by the local authority over 40 years ago, were estimated at £407,000.
It was recommended that the council approach the MoD to seek a financial contribution towards the repair work.
However, a report before councillors also warned that due to the history of the site, attempts to persuade the UK Government to agree to address the contamination are likely to be "challenging," with "no guarantee" of a successful outcome.
The report said the Lyness Harbour area was acquired by the council in 1977 from the MoD.
"Subsequently, site investigation works have been undertaken and confirmed the presence of historic oil contamination below part of the site which falls within the council's ownership," it said.
"This dates back to the former use of the area as part of the Royal Navy/NATO fuel depot, and a pipe spillage which is known to have taken place at a time when the site was owned and occupied by the MoD.
"In terms of environmental legislation, a causer of pollution or contamination is held responsible by the regulators. However, in the present case, it is likely that the council will be deemed to have acquired the land, after a period as a lease holder, in the knowledge of contamination (or likely contamination).
"Accordingly, attempts to persuade the UK Government to agree to address the contamination at this stage are likely to be challenging and there is no guarantee that these would lead to a successful outcome.
"It is necessary and essential that the contamination is addressed to satisfy the council's present liability in terms of contamination and its environmental responsibilities and to make the site available for any development proposal that comes forward.
"Expenditure on the remediation of the Lyness site will not create a new capital asset however as this project is a necessary step in making a vacant brownfield site available for re-use, it is considered appropriate to progress with this project by following the Capital Project Appraisal process."