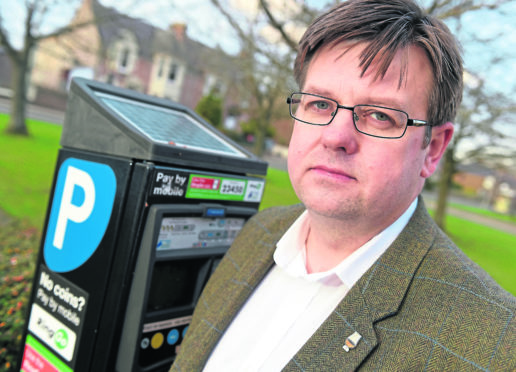 Lochaber councillors' pleas for fairness over free car parking charges for Fort William residents in the run up to Christmas found favour with councillors at yesterday's full council meeting in Inverness.
Council voted overwhelmingly to allow residents two hours free car parking in short stay car parks in Fort William from today until Christmas Day.
The offer sparked controversy which ended in the resignation of councillor Andrew Baxter as Lochaber area committee chairman.
The local councillors were told they didn't have the power to change the local charging policy, although they claimed there was provision in this year's budget for them to do so, with the council underwriting any losses.
They were told to bring the matter to be resolved by full council yesterday.
Mr Baxter said: "It's about fairness. We were expecting other areas – Wick, Nairn, Dingwall – to bring charges for their parking but they hadn't.
"We wanted to offer it for six weeks as a gesture of goodwill to people and to boost business for retailers.
---
>> Keep up to date with the latest news with The P&J newsletter
---
"At a time when Oban were giving parking – for free, we thought why can't we? In the grand scheme of things it would cost the council £10,000 and we thought we were able to do that as an area committee.
"It was clear it was not a process decision it was a political decision – it came down to saying if Fort William has free parking then we will need to deliver the same in Inverness."
Councillor Niall Maclean said: "Parking produces important revenue for the council, Lochaber is a massive contributor to that. Residents and businesses know that collection of parking revenue is not equal across the council.
"We felt free parking for Christmas would give the message that the money is appreciated and was valued."
Caol and Mallaig councillor Alan Henderson said what was being proposed in Fort William was unacceptable to the committee he chairs, Environment, Development and Infrastructure.
He said: "I would not deny them free parking, but what is being proposed would be unacceptable and unsustainable to EDI, costing up for a day a minimum loss £209 per day over 42 days a substantial amount of money."
He proposed the free parking be allowed, but the cost of it be funded through the local ward's discretionary budget.
The matter went to the vote with councillors supporting Lochaber councillors by 45 votes to 14, with 8 absentions.
Mr Baxter said Lochaber councillors and residents were delighted by the result, adding: "But it is dangerous precedent and disappointing to suggest that councillors in HQ could decide how the very small pot of money that we get to spend in our wards can be decided in this building. (Council HQ) Ward discretionary funding is not to be used to pay for core council services."