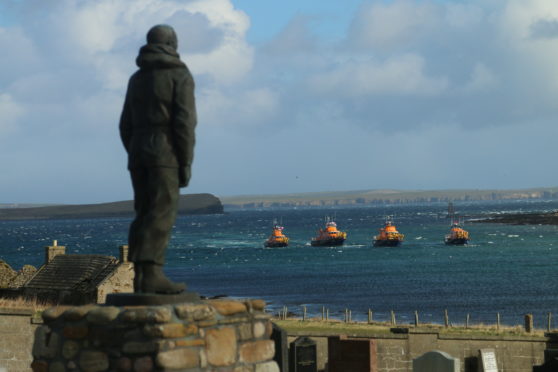 An eerie silence fell over Hoy in Orkney yesterday and flags at lifeboat stations around the country were lowered to half-mast as eight crew members of the tragic Longhope Lifeboat disaster were commemorated after half a century.
Events took place at the Longhope Lifeboat Memorial at Osmundwall and at the YM Hall in Longhope for those who lost their lives on the TGB lifeboat.
The current coxswain of Longhope Lifeboat, Kevin Kirkpatrick, shares a direct connection with the tragedy, losing his father, grandfather and uncle in the disaster, as does his wife Karen.
Paul Daly, area lifesaving manager in Scotland West and a previous divisional inspector for Longhope Lifeboat Station, said: "The legacy of the Longhope Lifeboat Station will be the enduring willingness by the crew to turn out on a dark night, going forth, sometimes with sketchy information, to pluck someone from disaster."
Events took place on both land and sea with representatives at Longhope joined by RNLI colleagues from Thurso, Stromness and Wick, with Coastguard search and rescue helicopter Rescue 900, based in Sumburgh, also attending.
The crews gathered to pay homage to their fallen comrades as their colleagues did 50 years previously, with crews from Thurso and Stromness joining the search for the missing boat, before discovering it overturned with all but one crew member still inside.
The crew from Thurso towed the boat into harbour, as Stromness formed an escort, to bring the lost men home to their families.
Both crews joined the current Longhope lifeboat as part of a small flotilla yesterday in Aith Hope, overlooking the cemetery where the memorial of the lost crew stands.
A vintage lifeboat from Ireland, alongside Coastguard tug MV Levoli Black, a harbour tug and pilot boat, were all in attendance at the commemorative flotilla yesterday.
Brian Miles, inspector of lifeboats for Scotland in 1969, read from a poem yesterday and said: "When you think of the conditions that evening the T.G.B was not capsized in the traditional sense but was overwhelmed by maelstrom like conditions. The loss of T.G.B captured the hearts of the whole RNLI family."
Mr Miles addressed current coxswain Kevin Kirkpatrick adding: "Kevin, your father and grandfather would be so proud that you are Coxswain of a station that meant so much to them."
Mr and Mrs Kirkpatrick's children, Jack and Stella, also serve with the RNLI crew at Longhope.