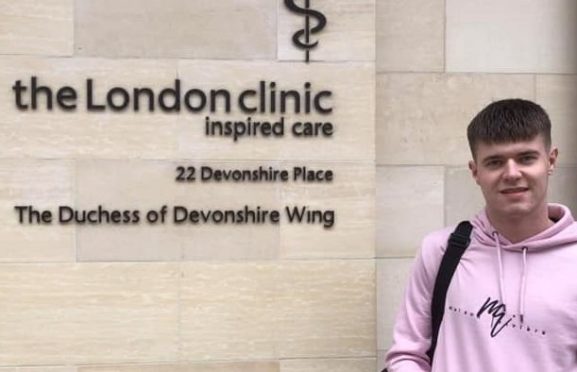 A selfless Highland League footballer has finally become a bone marrow donor after going under the knife this week.
Colin MacRae, from Helmsdale, travelled to London for the operation after his previous appointment date last month – which fell on his 21st birthday – was postponed because the recipient was unwell.
During the procedure, stem cells were extracted from bone marrow in Mr MacRae's pelvis, a procedure that requires general anaesthetic, as opposed to the more common and straightforward process of blood donation.
Highland footballer to donate bone marrow to aid cancer patient
The 21-year-old, who signed up to the Anthony Nolan register three years ago, spoke prior to his operation, saying: "There are a few nerves kicking in but if I am being honest I am more excited than anything.
"It's an absolute privilege being given the chance to possibly save someone's life, and I am just glad to be getting it done after a few delays.
"The London Clinic is a fantastic hospital and I know I'll be in safe hands for the operation."
Mr MacRae's actions seem to have inspired the Highlands. After he  shared his story, interest in Anthony Nolan rocketed across the north, with a rise of 557% in the request for testing packs experienced compared to the year previous.
---
>> Keep up to date with the latest news with The P&J newsletter
---
The Clachnacuddin star and Inverness College UHI student is said to be recovering well following the operation.
His recovery is anticipated to last around two weeks, with the star footballer out of Highland League action until he is once again declared match fit.
Mr MacRae added: "I have really enjoyed the whole build up and I'm really glad that by telling my story, I've helped raise the profile of the Anthony Nolan Trust.
"I just really hope it works out for the recipient."
Amy Bartlett, regional register development manager at Anthony Nolan, said: "Colin has been a shining example of a selfless Anthony Nolan donor.
"No one can predict if or when you will be called up as a match, but Colin has made himself available at the most crucial time. His actions will give someone with blood cancer or blood disorder their best chance at survival.
Anthony Nolan interest rockets in the north thanks to young Highland League footballer
"We are delighted that Colin has been inspired to encourage others to sign up as donors. Every person who joins the Antony Nolan register has the potential to help save someone in desperate need of a lifesaving stem cell transplant."
At present there are over 77,000 Scots on the Anthony Nolan register, making up 11%.