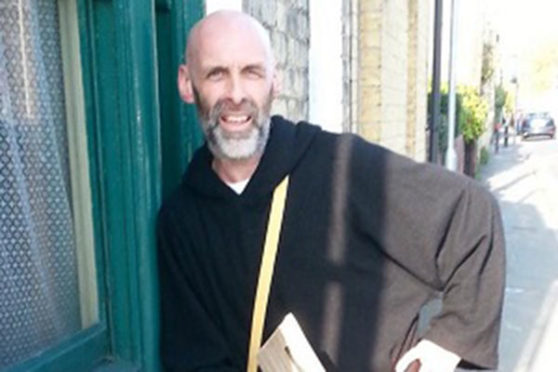 An Orkney man who bombarded an Episcopalian priest with homophobic hate mail avoided a jail sentence yesterday.
At Glasgow Sheriff Court self-proclaimed monk Damon Kelly, 57, was ordered to perform 250 hours unpaid work after sending Reverend Kelvin Holdsworth, the Provost of St Mary's Cathedral Episcopal Church, letters and post cards branding gay people "devil's droppings.'
He also urged Reverend Holdsworth to hang himself.
Kelly, from Westray, Orkney – who is part of a Catholic group known as the Black Hermits – was convicted of sending the mail between January 30, 2017 and February 7, 2017.
In one abusive letter, Kelly said: "A would-be serial killer would in my opinion find useful employment, if ,instead of the usual poor old prostitute, he were to embark upon the elimination of Anglican clerics."
In another vile rant he said Reverend Holdsworth should "hang himself", if "he isn't going to repent of his evil".
Kelly admitted sending the letters, but said it was because of his religious beliefs.
They were sent following a reading from the Koran in the cathedral at an event at which Muslims and Christians shared their traditions about the birth of Jesus.
In 2017 Reverend Holdsworth was criticised for writing in a blog that people should pray for Prince George "to be blessed one day with the love of a fine young gentleman".
He wrote: "A royal wedding might sort things out remarkably easily though we might have to wait 25 years for that to happen."
Following the sentencing, Mr Holdsworth said: "I warmly welcome the sentencing of Mr Kelly today. No-one should have to face this kind of intimidation. There are no circumstances where it is ever appropriate to send such threatening material through the post.
"These letters had a negative impact on many people including office staff and many members of the congregation.
---
>> Keep up to date with the latest news with The P&J newsletter
---
"At one time, it would have been difficult to get the police to take this kind of thing seriously. Now, that isn't the case and I could not speak more highly of the way that Police Scotland have dealt with this case.
"St Mary's Cathedral remains an Open, Inclusive and Welcoming congregation which welcomes LGBT people and seeks to build goodwill with other people of faith.
"We stand against homophobia, transphobia and Islamophobia.
"I'm thankful for the good wishes from both Christians and Muslims in connection with this and am pleased that the case is now concluded."
Kelly was convicted in 2016 of storming two church services in Argyllshire and ranting at the congregations.