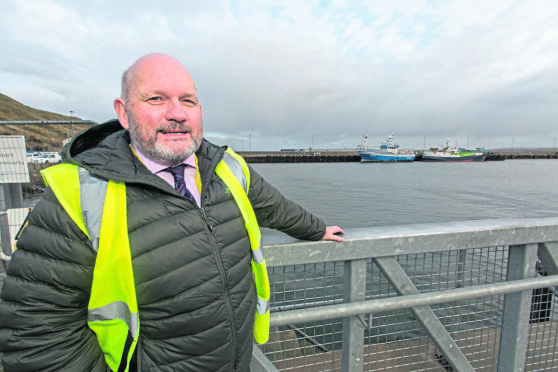 Politicians and development chiefs yesterday welcomed the green light for the £17 million redevelopment of the St Ola pier in Scrabster.
A £3 million award from Highlands and Islands Enterprise (HIE) completes the funding package for the venture which is in line to create 28 new jobs.
The latest phase in the major makeover of the Caithness port since the turn of the century will allow it to accommodate bigger cargo ships, oil service vessels and cruise liners.
The pier in the inner harbour was used to service the scheduled ferry crossings to and from Orkney until the creation of the deep-water Queen Elizabeth pier.
The new project will see the St Ola pier being dredged to a depth of at least 30ft, realigned and lengthened, with a new reclaimed area providing storage for cargo handling.
It will be able to berth supply vessels up to 560ft and cruise ships of up to 820ft.
Scrabster Harbour Trust believes the scheme will lead to a 6% rise in traffic and boost port revenues by 18%.
In addition to the construction work, the latest redevelopment is expected to create 28 new full-time jobs and add £2.6 million per year into the far north economy.
It will boost efforts to both build up the traffic associated with the new oil and gas fields opening up west of Shetland and is projected to lead to an extra 30,000 cruise passengers per year.
Matthew Reiss, Caithness area committee chairman of Highland Council, said: "This is really good news.
"Scrabster is set to have a very bright future. It is the only port on the north coast able to service the new oil activity west of Shetland and the new pier development will allow it to expand the number and size of cruise liners attracted to the port."
The development follows the £17.6m redevelopment of the old fish market pier to create the multi-purpose quay Jubilee Quay, which opened in 2013.
The trust also opened a new £1 million ice plant two years ago and has installed pontoons at the port.
HIE Caithness and Sutherland area manager Eann Sinclair said: "We are very pleased to be able to support this extremely valuable project.
"Improving infrastructure in this way helps bring more new business to Caithness and Sutherland and to support local industries.
"It will also help attract and retain high quality engineering and labour skills in the area."
Trust manager Sandy Mackie said: "The HIE award is tremendous news for the port and the area, marking another important milestone in our efforts to deliver the St Ola project.
"The procurement process to select a contractor for the works is under way."
The Nuclear Decommissioning Authority – a member of the Partnership – is ploughing £5 million in to the project.