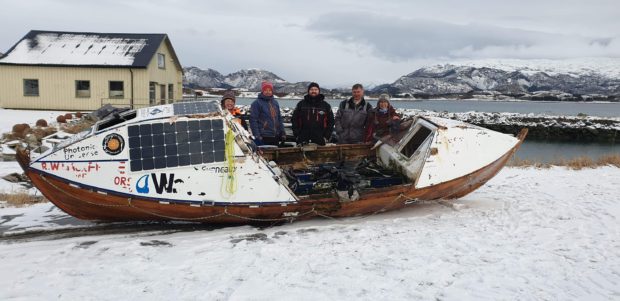 An intrepid Scot who was attempting to row across the Atlantic before being rescued has been finally reunited with his abandoned boat.
Duncan Hutchison's boat Sleipnir turned up in Norway in March, nearly six months after he was forced to leave it.
Mr Hutchison, from Lochinver in Sutherland, survived mountainous seas, brutal storms and even a shark attacking his home-made boat.
He was picked up by the 590ft tanker Asphalt Splendor on September 22 after Sleipnir's vital on-board electrics failed.
The rescue came on Mr Hutchison's 100th day at sea and 863 miles from Land's End.
His 23ft boat was lost at sea after the tanker's tow rope broke.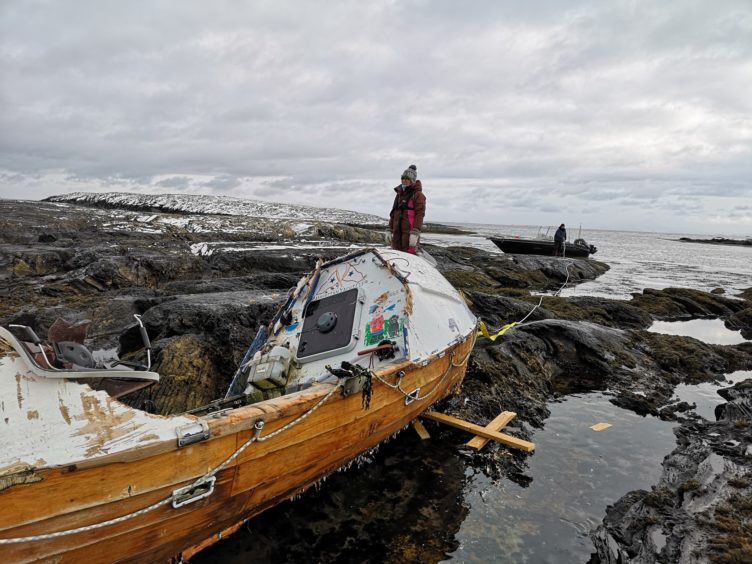 But then, months later, Mr Hutchison received news that the boat had made it across the Atlantic without him. It had washed ashore at Sømna near Brønnoysund in Norway – just as the offshore worker had predicted.
Now it has been shipped back to Lochinver.
---
Local and Proud: Follow our new Facebook page dedicated to the Highlands and Islands
---
An excited Mr Hutchison has already made new oars and a horse figurehead for his beloved boat.
Taking to Facebook, Mr Hutchison wrote:"'Sleipnir' returns, thanks to the goodwill and a lot of hard work from numerous friends in Norway, Aberdeen and Lochinver.
"Kristian Andre Moen and his colleagues made contact having discovered my boat washed up on the Norwegian coast, battered, but still just about in one piece. They retrieved it, stored it and delivered it to the departing harbour of Trondheim. A lot of time sacrificed to help us!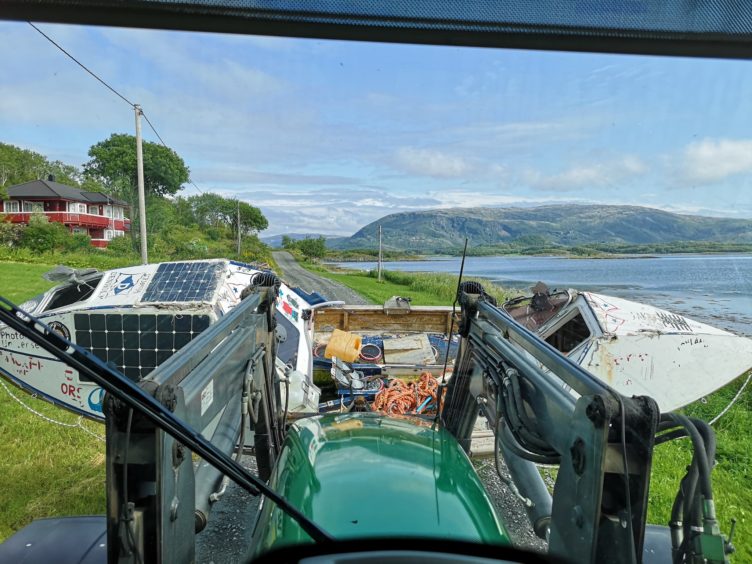 "Following their efforts, my friend on this side, William Smith (Bill) arranged transport with 'Sea Cargo'. He dealt with communication from Norway and Aberdeen, to get the boat moving towards Scotland. He also met me in Aberdeen harbour for it's arrival and helped me move it by forklift onto a trailer. Unfortunately, with all the water absorbed from its journey alone, the trailer used before couldn't handle the weight, so Sleipnir was left in the depot until we had another plan.
Lochinver rower receives boost from Rangers boss Steven Gerrard during trans Atlantic crossing
"Superhero Joseph Mackay saved the day once again! Always willing to help, he managed to organise a sturdier trailer, kindly offered by Matthew Bulch from 'Assynt Electrics'. Joe and his friend Calum Mackay travelled down to Aberdeen to assist the final pick up – arriving home at 5am this morning.
"Once again like-minded people from across the water have come together with the crew from home to complete a seemingly impossible task. DuncanAdrift would not have happened without the behind-the-scenes help of so many. We can't explain here how much this support means but hope that those involved understand. Thank you."